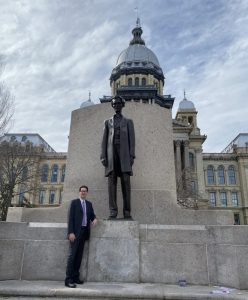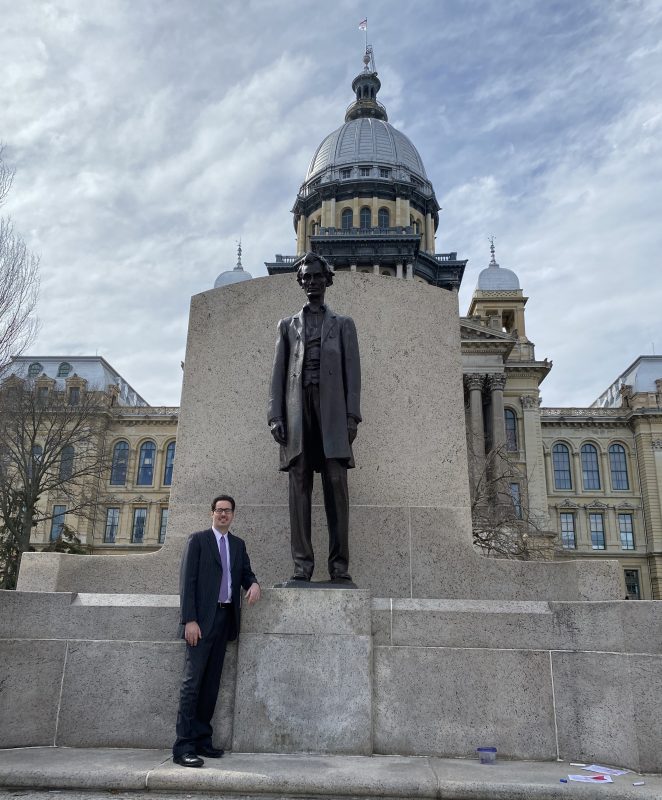 By: Bryan McDaniel
CUB Director of Governmental Affairs
Given all the action on energy legislation in the General Assembly over the last few years, 2023 proved a little quieter, until the end of session when Ameren muscled through a proposal to give themselves a monopoly over transmission lines in their territory.  Most of the action is at the Illinois Commerce Commission (ICC) this year with a record six rate cases, and Gov. J.B. Pritzker appointing new commissioners to the ICC: Chairman Doug Scott and Commissioners Conrad R. Reddick and Stacey Paradis.
While many groups and advocates were not down in Springfield during COVID times, CUB was there fighting for you.  It is nice to see the State Capitol again filled with people who have come to petition their government.  CUB plays a lot of defense on your behalf in Springfield, as utilities always have ideas on how to make more money for themselves and shareholders. We also go on the offense by working with legislative sponsors to file pro-consumer bills to save you money and cut into utility profits.
Big thank you to those sponsors–Leader Rep. Theresa Mah, Rep. Dagmara Avelar, Rep. Michelle Mussman, Sen. Ann Gillespie and Sen. Cristina Castro–for caring about the people paying utility bills! I also thank Sen. Sue Rezin–one day as a member of the Energy and Public Utilities committee she bucked anti-consumer interests at a hearing and let me speak out against big water corporations and high bills.
I thank these supportive legislators because one of the things that comes with filing a CUB-championed bill in Springfield is a line of utility lobbyists at your door, and the headache that comes with that!
I'm glad we started the conversation on a number of strong proposals, including legislation that would cap the utilities' profit rate for shareholders; end the punishing "Qualified Infrastructure Plant" surcharge on gas and water bills; bring back the low-cost AT&T Consumer's Choice plans and limit how much Illinois American Water or Aqua Illinois consumers would have to pay to cover the acquisition costs when those companies buy up water and wastewater systems. (Read more about the fight against private water companies.)
Some positive news from this legislative session:
Attorney General Kwame Raoul protects customers. We thanked AG Raoul last year for leading the charge for a pro-consumer bill, and he came through again. This time he helped pass a bill supported by CUB that protects energy customers from disconnection when the temperature is at least 90 degrees or when the National Weather Service issues an excessive heat watch. (The old standard was 95 degrees or hotter.)  During the hot, humid, sticky dog days of summer, it's important to keep everyone safe.
Goodbye to the QIP. Part of being a consumer advocate is understanding that victories don't come easy, and they often don't come quickly.  When you add up the cumulative value of the utilities we take on, the number rapidly approaches hundreds of billions of dollars. (Illinois American parent American Water $29.43 billion + Peoples Gas parent WEC Energy Group $30.78 billion + Nicor Gas parent Southern Company $80.77 billion + ComEd parent Exelon $42.5 billion + AT&T Illinois' parent $124.95 billion.) In December, the gas utilities' beloved Qualified Infrastructure Plant (QIP) surcharge that allows them to raise rates more quickly is scheduled to go away. CUB started the fight to end the surcharge years ago and we remain vigilant for utility shenanigans to try to resurrect it.  Monopolies don't need any extra mechanisms to raise rates and that's exactly what the QIP surcharge gives them.
Your activism. Thanks to all your messages to legislators (you sent thousands in 2023), we made real progress on the QIP surcharge and are making headway on other consumer issues. I appreciate all you have done to help us in this fight–I can't say enough about your support. But our work isn't done, it never is!
If you haven't already, please make sure to join the CUB Action Network so you too can help send messages to legislators in Springfield.
About the author: Bryan McDaniel is CUB's Director of Governmental Affairs. He started at CUB on the phones, taking consumer complaints and helping people save on their utility bills at events all over the state. Now he goes to Springfield for CUB where he works to protect Illinois consumers. Helping people save money is his favorite part of the job. He enjoys the outdoors and spending time with family.