As we approach winter heating season, gas prices for September remain relatively stable, in contrast to the price spikes of a year ago.  
There is one glaring exception: an 80 percent jump in price from August for Mt. Carmel, a public utility in southeastern Illinois, to 47.49 cents per therm. Also, while most utility prices range from about 19 cents a therm to just under 50 cents a therm, Liberty Utilities, which serves about 30 communities in Central and Southern Illinois, is charging 91 cents a therm in September–still about 21 percent lower than a year ago. 
In the Chicago region, Nicor, the state's largest utility, reported just a 5 percent increase from August to September, and Peoples Gas and North Shore Gas, reported 6 percent and 4 percent increases, respectively.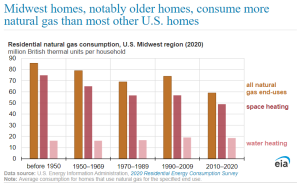 The monthly gas prices are a significant factor in our energy costs here in Illinois, where about 80 percent of homes use the fuel. The US Energy Information Agency reports that Midwest homes, notably older homes, consume 34 percent more natural gas than most other U.S. homes. Still, as you can see from the chart, overall gas use has declined over the decades.
Gas utilities file supply prices–called the Purchased Gas Adjustment (PGA)–each month with the Illinois Commerce Commission (ICC). Below are the supply prices for September 2023 and how they compare with last September's prices. 
Illinois consumers have just emerged from a two-year price spike, caused by a number of factors, including extreme weather and the Russian invasion of Ukraine. We're hoping the current price stability continues into the winter–and consumers are spared, at least for the immediate future, from a volatile gas market. 
---
September Gas Prices
Ameren Illinois–40.00 cents per therm (down about 54 percent from September 2022)
Consumers Gas–45.36 cents per therm (down about 57 percent from September 2022)
Illinois Gas–19.18 cents per therm (down about 78 percent from September 2022)
Liberty Utilities–91.32 cents per therm (down about 21 percent from September 2022)
MidAmerican Energy–46.94 cents per therm (down about 56 percent from September 2022)
Mt. Carmel–47.49 cents per therm (down about 56 percent from September 2022)
Nicor Gas–42.00 cents per therm (down about 66 percent from September 2022)
North Shore Gas–35.12 cents per therm (down about 62 percent from September 2022)
Peoples Gas–31.56 cents per therm (down about 70 percent from September 2022)  
Note: Your utility is determined by where you live, so you cannot switch from one utility to another. Under Illinois law, gas utilities are not allowed to profit off supply prices—they pass those costs from gas producers and marketers onto customers with no markup. State regulators annually review the utilities' gas-management procedures to ensure the companies did a reasonable job with their gas purchases, given market conditions, to hold down costs for consumers as much as possible.
---
While the changes aren't dramatic in September (bar Mt. Caramel), the volatility of the market requires us to monitor prices each month. The expense of gas is one reason we are urging Illinois to begin planning now for the long transition away from gas–check out CUB's Better Heat guide to learn more about this transition, and the growing federal and state incentives available to help consumers do that. 
In the meantime, you can prepare for winter heating season with our winter prep list to best prepare your home for the Illinois winter from the inside out. Some quick tips:
Use weatherstripping and caulk to seal air leaks, preventing cold air from coming in and warm air from going out.
Have a certified heating, ventilation and air conditioning (HVAC) contractor inspect your furnace. If your furnace is 15 years or older, you may want to consider upgrading.
Always check your smoke and carbon monoxide detectors. Make sure your detectors are working — replace the batteries if you're unsure of the last time they were changed.
For more information, tips and advice, visit the CUB Help Center.