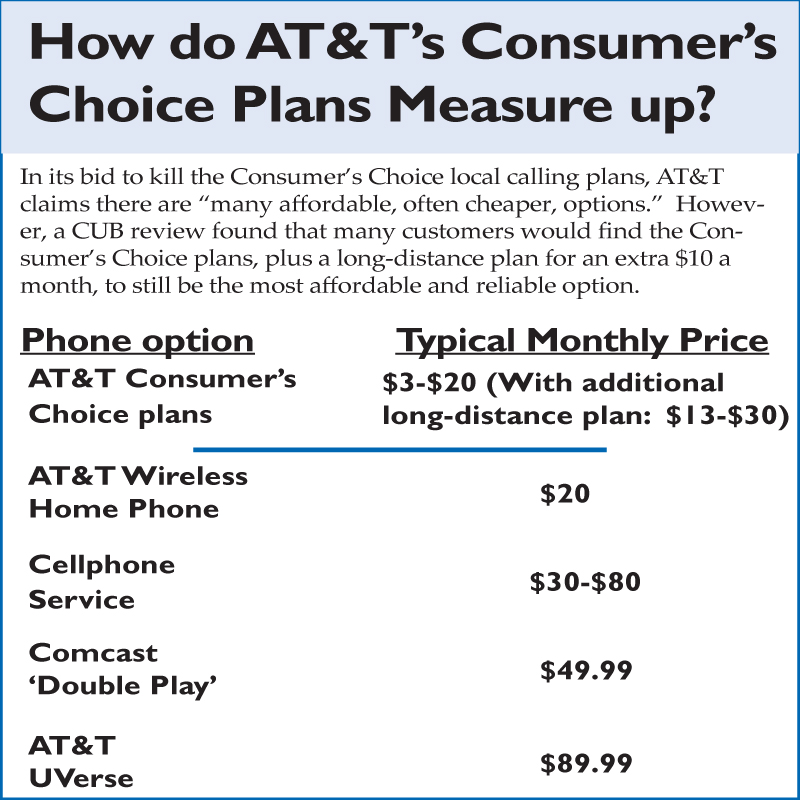 In its bid to end traditional home phone service in Illinois, AT&T also wants to abolish the low-cost "Consumer's Choice" plans that CUB created under a legal settlement with the phone giant.
CUB calls the plans the best local calling deals in the state, but the AT&T lobbyists have been circulating a flyer in the halls of the state capitol that claims "consumers have many affordable, often cheaper, options providing both local and long-distance."
The flyer's argument that you can find local/long-distance packages for "as low as $20/month" doesn't match the experience of CUB's outreach team, which participates in more than 400 consumer events a year.
"We see people paying $40 to $60 a month on packages that give them more calls than they'll ever want or need," said CUB Outreach Director Sarah Moskowitz. "There are a lot of people out there who could get all their phone needs met with a Consumer's Choice plan and a cheap long-distance rate for about $30 a month, even less."
AT&T has three "Consumer's Choice" plans: Basic, Extra and Plus.
"Consumer's Choice Basic" offers 30 local calls a month, with each additional call charged at a flat 6 cents per call rate. The plans range from $3.05-$9.50 per month, depending on where you live.
"Consumer's Choice Extra" offers unlimited local calling for $9-$15 a month, depending on where you live.
"Consumer's Choice Plus" offers unlimited local calls and a choice of two extra features, such as Call Waiting or Caller ID, for $16-$19.50 a month.
CUB went through the most likely alternatives to traditional home phone service. Note that some of these options quote introductory prices that would go up after the first year or first contract.
Cellphones: Most cellphone plans include unlimited talk and text, with data usage fees. Not including the cost of the phone itself, a single plan with unlimited talk and text and data usage ranges between $30 and $80, including monthly line fees. These are averages. Prices will vary based on the number of lines, and data plans vary across networks.
AT&T's UVerse: This plan includes a bundle of cable, Internet and home phone. For the first two-year contract, the company charges $89.99 a month.
Comcast's "Double Play": Includes Internet service and home phone service for $49.99 a month for the first year.
AT&T's Wireless Home Phone: The service allows users to connect their home phone to AT&T's wireless network, offering them unlimited talk and features like voicemail and caller number ID for $20 per month. Note:  This service uses a "mobile device" to connect a home phone to AT&T's wireless network. You pay a $45 activation fee, plus $99.99 for the device (if you don't sign a 2-year contract). AT&T warns that the service "is not compatible with home security systems, fax machines, medical alert and monitoring services, credit card machines, IP/PBX Phone systems, or dial-up Internet service."
As the chart shows, the Consumer's Choice plans compare favorably to the other options available for customers who just want plain old telephone service. True, the Consumer's Choice plans do not include long-distance, but many customers can enjoy low-cost long-distance calling with other companies for an additional $10 to $15 a month, at most. Even with those added costs, Consumer's Choice still offers many customers the most affordable and reliable phone service.
If you want to join the fight against AT&T's legislation, send a message to legislators.