It's that time of year again; sunnier days, family vacations and…CUB membership!
If you donate $25 or more to CUB before May 31, you will receive an insulated tote bag (large!) you can use all summer long. It's perfect for your grocery store runs, picnics and beach parties.
We want to show our appreciation for your help in fighting Illinois rate hikes. Your support is the reason CUB has saved consumers $20 billion over the years.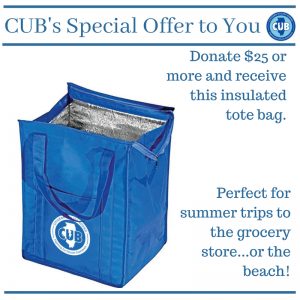 The fight is far from over:
In Washington, giant fossil-fuel generators are pushing plans that could raise ComEd bills by hundreds of millions of dollars.
Ameren's proposed $71.75 million electric and $46.6 million gas increases threaten to hit customers with a double whammy in 2019.
Nicor just hiked gas bills by $93.5 million. That's half what the utility wanted, but we're challenging the new amount because our evidence shows it's excessive.
Illinois American Water's $35 million rate hike is millions less than the company wanted—but we're still challenging it at the State Appellate Court.
In Springfield, we're battling AT&T and Comcast to protect the internet protections called net neutrality.
The parent companies of Illinois' electric and gas utilities made nearly $7 billion last year. Their CEOs? Up to $15 million in compensation.
By making your donation today, you can help fight current and future rate hikes.