Maybe you've received a letter in the mail selling a utility maintenance plan that pitches "peace of mind" or "safety and security" and promises to "simplify the home repair and maintenance process." 
But be careful: That peace of mind can cost you.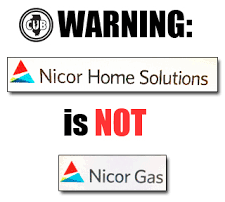 Marketed as low-cost insurance to protect you against high-cost, emergency repairs, these plans cover everything from sewer lines to kitchen appliances, from surge protection to your water heater. With reassuring names like "ComfortGuard" or "Lifeline", these plans may look attractive on the surface. But the fine print reveals that maintenance plans too often turn out to be more restrictive than helpful and more money than they're worth.
Some utilities offer maintenance plans, but many plans are offered through unregulated affiliates of the utilities. Scan you bill for any maintenance plans — don't assume that it's a mandatory fee. Beware that some providers may sound like the utility, but are not. For example, Nicor Home Solutions (also called Pivotal Home Solutions) uses the regulated utility Nicor Gas' name, but it is unregulated and no longer affiliated with the utility. In fact, the brand name was sold last year to American Water Enterprises.
The cost of plans varies depending on what they cover. Some are deceptively cheap (Nicor Home Solutions offers a plumbing protection plan for a monthly charge of $4.95) and others are enormous additions to your utility bills (they also offer a complete home protection plan for $69.95 a month). No matter the cost, consumers should remember that monthly charges add up. Even the $4.95 per month plan totals to over $50 by the end of one year.
Longtime CUB member Karen Kamis recently decided to end her furnace maintenance plan with Nicor Home Solutions. She attended a Utility Bill Clinic in Streamwood on November 20 where she met with Foluke Akanni, CUB's Sustainable Communities Liaison. Ms Kamis was paying about $15 per month for an annual furnace check up — a total of $180 per year. Foluke advised her to find a more cost-effective local technician to perform maintenance as needed instead of paying for the plan.
"It's just not worth it when you add it all up," Ms Kamis said.
Any money you pay into a plan is nonrefundable, even if you never have maintenance or repair issues. Essentially, you could be paying anywhere from $3 to $50 per month for years and never use the service. You're better off putting aside some money in a utility emergency fund — at least then you're in control of how and when you use the money. 
Even if you do need maintenance or repair work done, often there's a long list of work these plans don't cover. A quick review of Nicor Home Solutions's $11.95/month Kitchen Essentials plan showed that it covered up to $2,000 dollars for repairs/replacements to a cooktop and refrigerator. However, once you read the details, you find the plan does not include damages to door handles, shelving or drawers, or the electric or water line to the fridge. For the cook top, it doesn't include damage to the natural gas or electric lines or to the exhaust fan. Nothing is covered if the damage is caused by pests or rodents. 
The bottom line: Make sure you know what you're signing up for.
In some situations, a maintenance plan could be the smart choice for you depending on the age of your home and how long you plan to live there. Just make sure to read the fine print carefully. Know exactly what the plan will and will not cover and how the costs add up. Don't let yourself pay for a utility maintenance plan that doesn't work for you.