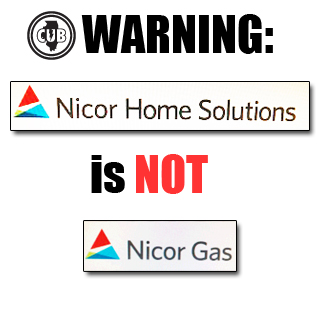 When's the last time you carefully looked at your Nicor Gas bill? Is there a charge from Nicor Home Solutions tucked away among all the other charges? If there is, get the facts: 
Fact: Nicor Home Solutions is NOT Nicor Gas, the regulated utility. Nicor Home Solutions is an unregulated affiliate of the utility. It offers repair and maintenance plans ($3.95 – $64.95 per month) for heating and cooling equipment, appliances and utility lines.
Fact: For years, CUB has tried to stop Nicor affiliates from confusing customers by using the name and logo of the regulated utility to market their products. NBC 5 Chicago recently reported on consumers who paid thousands on Nicor Home Solutions plans they didn't know they had because it was tucked away on their gas bills, labeled with the Nicor name. (See the TV report on "sneaky fees" here.)
Fact: In a 2016 legal settlement with Attorney General Lisa Madigan and CUB, two other Nicor affiliates—Nicor Advanced Energy and Nicor Solutions—agreed to change their names and logos. The settlement was part of Atlanta-based Southern Co.'s buyout of Nicor parent AGL Resources. As of Nov. 1, 2017, Nicor Advanced Energy is now called "Illinois Energy" and Nicor Solutions is now called "Illinois Energy Solutions." Both companies sell special gas pricing plans.
Fact: At this time, Nicor Home Solutions has NO plans to change its name and logo. Consumer advocates tried to get the company to change its name under the merger settlement, but Nicor Home Solutions was not included because, as a home warranty company, it is not directly regulated by the Illinois Commerce Commission (ICC).
Fact: A repair/maintenance plan is NOT mandatory. Before you sign up, find out if your heating and cooling systems already have warranties that cover maintenance. You may find better deals through local heating/cooling professionals without having to pay a monthly fee for a plan you may need only once in a while.
Note: One of the more controversial plans is something called "Gas Line Protection." For $4.95 a month, it covers the cost of inspection and repair of exposed gas pipes inside a home. (A very similar program we see on Nicor bills is "ComfortGuard." Be warned that CUB's analysis of ComfortGuard has found it to be overpriced and rarely used.)
If you are on a Nicor Home Solutions plan and want to get off, call the company directly. The number should be on your gas bill. (The Nicor Home Solutions number on the company's website is: 1-877-642-6747.)