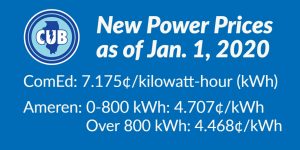 Ameren and ComEd are starting 2020 off right — with a drop in their electric rates.
To view these changes, visit the links below that corresponds with your electric utility. You will also be able to order a printer-friendly version of CUB's Gas and Electric Guide and our newly updated fact sheet "Making Sense of Your Electric Bill." We'll email the free publications to you immediately.
For Ameren customers, click here.
For ComEd customers, click here.