As Coronavirus continues to spread, headlines have been saturated with news about the disease, also known as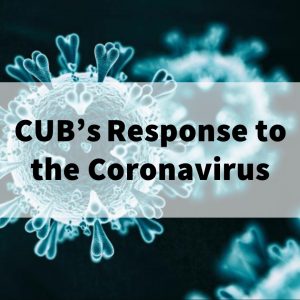 COVID-19. CUB picked a few news stories from the bunch that are helpful for consumers' pocketbooks and health.
Leaders call on utilities to half shut-offs during public health crisis.
Gov. J.B. Pritzker and Illinois Attorney General Kwame Raoul urged the Illinois Commerce Commission (ICC) to institute a moratorium on shut-offs for customers of Illinois' telecom, water, electric and natural gas utilities.   
"I have requested the ICC initiate an emergency proceeding on a moratorium on shut offs and changes to payment and collection policies to ensure Illinoisans aren't saddled with debt if they're unable to pay their bills during this crisis," the governor Tweeted. 
The ICC said it was urging the utilities to cease disconnections for non-payment, and to suspend late-payment fees or penalties.
---
Comcast and AT&T respond to Coronavirus.
In a crisis like this, the Internet is vital, as employees and students across the country are working from home to mitigate the spread of the virus.  We're always pushing big telecom/Internet companies to do more, but we're encouraged that they have taken some positive steps to help.
Comcast announced that for the next 60 days it was pausing data plans, meaning customers could use unlimited data at no extra charge. It also vowed to suspend disconnections and late fees, and it's offering Wi-Fi hotspots for free to anyone who needs them. Also, starting Monday, March 16, it's adding a few features to its Internet Essentials program. Low-income families who live in a Comcast service area can sign up as new customers to receive 60 days of free Internet Essentials service—which is normally available for $9.95 per month. Comcast will also be increasing speeds for the Internet Essentials service. Note: To qualify for Comcast's Internet Essentials service, customers must be eligible for public-assistance programs such as the National School Lunch Program, Housing Assistance, Medicaid, SNAP, or SSI. Applicants can visit Comcast's website to enroll in the program; they may also call 1-855-846-8376 for English or 1-855-765-6995 for Spanish.
AT&T also is suspending data caps and issuing a 60-day moratorium on shut-offs or late-payment fees for all its broadband internet customers. And, like Comcast, it's opening its hotspots to everyone. 
---
Be on the lookout for scams.
In a crisis like this, don't make truth one of the victims. (For example, 5G did NOT cause the outbreak.) Get the facts and beware of scam artists.
The Federal Trade Commission (FTC) and the Food and Drug Administration (FDA)  have

issued warning letters

to seven sellers of unapproved and misbranded products that

claim they can treat or prevent Coronavirus

. Those products include teas, essential oils, and colloidal silver. Don't let yourself get caught up in a scam. As of now, the FDA says there are

NO

vaccines, pills, potions, lotions, lozenges or other prescription or over-the-counter products available to treat or cure COVID-19—online or in stores.
Do your homework when it comes to donations, whether through

charities

or crowdfunding sites. Don't let anyone rush you into making a donation. If someone wants donations in cash, by gift card, or by wiring money, don't do it.
---
Be sure to wash your hands—and your cellphone.
To keep from spreading or catching COVID-19, we should wash our hands and not touch our face, but what about the countless things that our hands touch? The CDC suggests disinfecting all

"high touch"

surfaces every day, including your cellphone—which constantly comes in contact with your hands and face.
Moisture can damage your phone or tablet, so avoid spray cleaners, bleach and aerosol sprays. (And  don't submerge your device in any cleaning fluid or water.)

A simple cleaning wipe with isopropyl alcohol works like a charm. If you don't have cleaning wipes, you can

make your own

using a variety of common kitchen and cleaning products. Just wipe your phone thoroughly, and don't forget your phone case and accessories.

And remember to wash your hands thoroughly after you're done.