Major Illinois utilities have extended the moratorium on shut-offs for another month, until around September, according to a statement from state regulators.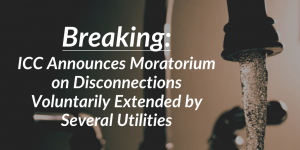 Ameren Illinois, Aqua Illinois, Consumer Gas, ComEd, Illinois American Water, Liberty, Nicor Gas, Peoples Gas, North Shore Gas and Utility Services of Illinois are among the utilities with extended moratoriums on service disconnections.
"In the middle of a pandemic, nobody should have to worry about losing their electric service," CUB Director of Communications Jim Chilsen said. "We've had a lot of battles with the utilities over the years, but I think everyone acknowledges that we're in the middle of a public health disaster and the worst economic crisis since the Great Depression, so we're glad the utilities are doing more to live up to their responsibility of serving customers."
Earlier this summer, CUB fought for some of the nation's toughest consumer protections.