An Illinois consumer has given CUB's staff a lesson in kindness. 
Recently, CUB hosted a giveaway with a top prize of $100 off your next utility bill for answering our poll question: "My most expensive utility bill is…" When the poll closed last Saturday, we randomly selected one winner: Laurie from Downers Grove, who said that her natural gas bill was the most expensive.
We reached out to Laurie to congratulate her and let her know she had won our little giveaway, and her response surprised and humbled us.
"I'd like to just give that $100 back to Citizens Utility Board for all the great things that your organization has done," Laurie said. "Keep up the good work!"
The staff at CUB wants to thank Laurie for her generous gift. The fight for clean, affordable energy and consumer advocacy never stops, and it's good to know so many generous consumers, like Laurie, are leading that fight.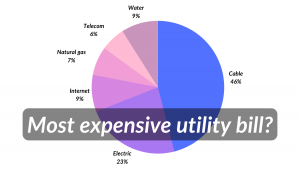 "I hope one of the lessons of this difficult year is that acts of kindness (big and small) go a long way. I thank you for teaching me that lesson one more time," CUB Communications Director Jim Chilsen wrote in a thank you email to Laurie. "We will use that money to do good work in Illinois."
By the way, out of 803 consumers polled, the most expensive utility bills were:
Cable: 46%

Electric: 23%

Internet: 9%

Natural gas: 7%

Telecom: 6%

Water: 9%