As you read this, an estimated 20-40 million people in the United States don't have access to high-speed internet. Amid a global pandemic, that means children blocked from e-learning and seniors cut off from online medical appointments.  "The digital divide is now a matter of life and death…" the U.N. Secretary General said over the summer.   
But we're glad YOU have an internet connection and can help do something about this!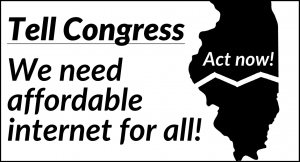 A new bill in Congress would close the divide. Among other things, the Accessible, Affordable Internet for All Act would: 
Allocate $80 billion to deploy high-speed broadband infrastructure nationwide; 

Require an affordable option for internet service plans; 

Provide $5 billion to help students e-learn, and $1 billion for grant programs to help states close the digital divide.   
This is an Illinois issue: A Chicago Tribune-ProPublica Illinois analysis this year found more than 500 Census tracts—a significant portion of the state—without access to quality broadband internet. 
In the middle of this public health crisis, we need to stand up for our neighbors who are cut off from the internet and don't have a voice. Please, tell Congress: We need universal access to affordable internet.