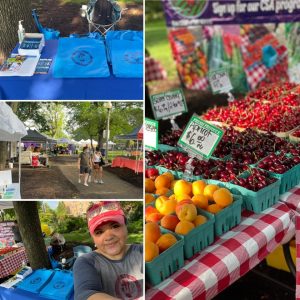 Want to learn more about ways to save money on your utility bills, get your bills analyzed and learn more about consumer protections? Check out our upcoming events for the month of July! As more folks continue to get vaccinated, we are returning to in-person events while continuing to host virtual events as well.
Have questions or just want to chat with the CUB staff? Every Friday at 11 a.m. we host Coffee with CUB to answer your utility questions. Join us by visiting our Facebook page and watch via Facebook Live. We also host a Spanish-language version, Cafecito con CUB, on Tuesdays at 2 p.m. 
---
It wouldn't be summer without a farmers market. Visit CUB's table for helpful utility info and free giveaways at these markets: 
7:00 a.m. – 1:00 p.m., Saturday, July 17: Lincoln Park Farmers Market (1817 N. Clark St.) 
8:00 a.m. – 12:30 p.m., Sunday, July 18: Buffalo Grove Farmers Market (951 McHenry Rd.) 
8:00 a.m. – 12:00 p.m., Saturday, July 24: Kankakee Farmers Market (250 S. Schuyler Ave.)
4:00 – 7:00 p.m., Wednesday, July 28: Ravenswood Farmers Market (4900 N. Damen Ave.) 
---
6:00 – 7:00 p.m., Monday, July 19: Chicago Energy Town Hall 
Join CUB, Blacks in Green, the Office of Mayor Lori E. Lightfoot, and the Department of Assets, Information, and Services for a community conversation on the future of energy in Chicago. Join via Zoom or call in at 312-626-6799, access code 833.918.17681.
6:00 – 8:00 p.m., Wednesday, July 21: Virtual Utility Bill Clinic
Join CUB and state Rep. Joyce Mason, of Gurnee, for a free virtual utility bill clinic to learn more about reducing electric, gas, and both landline and cell phone bills. Each participant will speak one-on-one with a CUB counselor in a private and secure video call. Registration is required for this event.
5:30 – 6:30 p.m., Monday, July 26: Home Energy Savings with CUB and the Waukegan Public Library 
CUB and the Waukegan Public Library will be hosting a free webinar focused on energy savings and the latest updates on utilities in Illinois. Register here.