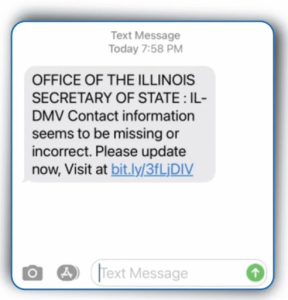 Illinois consumers should be on alert for a recent wave of phishing scams trying to defraud Illinoisans. The fraudsters are claiming to represent multiple state departments, including the Secretary of State.
"Phishing" scams use messages disguised as reputable companies to persuade consumers to reveal personal information, such as passwords and credit card numbers. (Phishing typically refers to such scams over email; "SMS phishing" or "smishing" to text scams; and "vishing" to such scams over the phone.)
In this case, the scammers are posing as the DMV or Secretary of State, claiming that  your driver's license needs to be validated, your contact information is out of date, or you owe fees. The message prompts consumers to click on a provided link.
The link may take you to a website that looks similar to the official Illinois Secretary of State website, but be cautious: scammers are using copies of website logos and masthead to mimic the appearance of the official website.
Clicking on such links may allow malware to corrupt your phone or computer. Some links prompt consumers to submit personal information, such as social security numbers, driver's license details and credit card numbers, which could result in identity theft. 
Remember: the Secretary of State's office will never send you a text or email asking for personal information. To protect yourself from such attacks:
Do not click on suspicious links or provide personal details. If in doubt, reach out to that state agency or company on your own through the legitimate phone number or website.

Delete suspicious emails and texts. (While an email or text may look official, a closer inspection of the message may reveal spelling errors and bad grammar. If you ever get an official-looking text or email with a disturbing warning, don't do anything rash. Again, contact the company/agency yourself.) 

Hang up on calls that ask you to provide personal information, such as your Social Security Number or bank account number. 

Keep your software up to date. Most devices can be set to update automatically when new software versions are released.

Back up your data. You can copy your computer files to an external hard drive or cloud storage. It's good practice to back up the data on your phone, too.

Set up two-factor authentication. Some accounts offer extra security by requiring two or more credentials to log in to your account. The additional credentials you need to log in to your account fall into two categories:

Something you have — like a passcode you get via an authentication app or a security key.

Something you are — like a scan of your fingerprint, your retina, or your face.
Multi-factor authentication makes it more difficult for phishers to access your accounts.
Scammers are good at their jobs. They can be extremely convincing. Consult this helpful webpage from the Federal Trade Commission that provides next steps if you think you paid money to a scammer. TIP: Call your bank and report the fraudulent charge immediately.
If you have questions about text message scams or identity theft, please call the Illinois Attorney General's Consumer Fraud Hotline at 800-386-5438 (Chicago), 800-243-0618 (Springfield) or 800-243-0607 (Carbondale). To submit screenshots of scam messages, email [email protected].
Check out other helpful resources:
Federal Trade Commission: How To Recognize and Avoid Phishing Scams
Federal Trade Commission: What To Do if You Were Scammed
Federal Trade Commission: Report identity theft and get a recovery plan