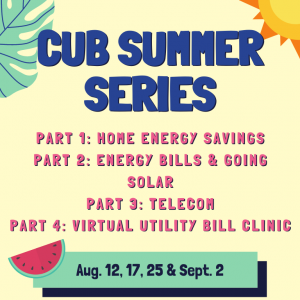 Happy August, everyone; it's time for our monthly roundup of upcoming CUB events designed to help you learn more about consumer protections and ways to save on your utility bills. 
Check out our list of events to see which one catches your eye—including a summer series of money-saving webinars culminating in an opportunity to get a free utility-bill analysis in early September. We hope to see you there!
CUB Summer Series 
This month we are bringing you our CUB Summer Series. In this series, we'll cover ways to cut down on your energy and telecom bills, give you details on how to take advantage of solar energy and other clean energy topics important to your bottom line with events in English and Spanish. Participants will have the chance to win a $25 gift card by registering for any Summer Series event! 
---
Additional events
2:00 – 3:00 p.m., Tuesday, August 10: Accessing utility assistance, avoiding scams and staying cool with CUB
Join CUB and state Sen. Sara Feigenholtz for a webinar focusing on saving money, making your home more comfortable, and energy assistance programs. Register here. 
2:00 – 3:00 p.m., Thursday, August 12: Home energy savings and policy webinar 
Join CUB and state Rep. Katie Stuart for a free webinar designed to save you money and make your home more comfortable! Register here.
5:30 – 6:30 p.m., Monday, August 16: Understanding your cable options 
State Sen. Laura Ellman and CUB will discuss your cable options in Illinois. Learn about your choices in the TV market; ways to cut your cable costs; alternatives to satellite or cable; and how to consider if it's time to get rid of your cable. This workshop will be hosted live on Senator Ellman's Facebook page. 
---
And remember: Every Friday at 11 a.m. we host Coffee with CUB to answer your utility questions. Join us by visiting our Facebook page and watch via Facebook Live. We also host a Spanish-language version, Cafecito con CUB, on Tuesdays at 2 p.m.