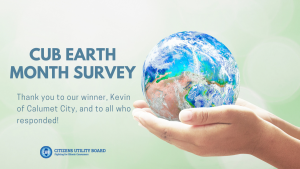 Congratulations to Kevin of Calumet City for winning our Earth Month Survey giveaway! Out of 330 entries, he was randomly selected to receive a pack of 10 LED light bulbs, which could help him cut his electric bills by hundreds of dollars over their lifetime.
We asked people how they fight climate change at home. Here's how Kevin answered: 
"My house is pesticide-free for the last 15 years. and I only have (native plants). I don't till the soil. I recycle as much as I can."
Since every month is Earth Month, we'd like to take a moment to share some of the ways CUB supporters just like you are fighting climate change throughout the year. 
"I use a smart thermostat to regulate inside temps, use LED bulbs, walk versus drive when I can, and bundle errands in the car for fewer trips." -Sally

"I recycle everything I can. I keep the thermostat set low in the winter and high in the summer." -Alex

"I always reuse plastic grocery bags as garbage bags, and I ride my bike or walk whenever possible to reduce my carbon footprint." -Jeffrey

"I turn off unneeded lights, ride my bike for small shopping trips and keep the thermostat at appropriate levels in heating and cooling seasons." -Les

"I buy locally, reuse and repurpose as much as possible, and shop thrift stores for gently used items instead of buying new." -Pamela

"I try to buy locally grown foods." -Terry 

"My wife and I are recently retired teachers and thus we are reducing our driving habits. When we do drive to complete errands, we generally go together.  We bring our own shopping bags when we grocery shop and reusable containers for the leftovers when we go out to eat. We are also dressing in multiple layers when at home so we can reduce the setting on our house thermostat during the winter days. We are also conscientious of our electricity and water usage. " -Garrick

"I have had Nicor and ComEd come in and make our house energy efficient with free assessments." -Sally

"I compost, recycle and donate so as not to fill landfills. In winter my thermostat is set to 65 in summer to 77. I try to map out my errands so I'm not driving around aimlessly." -Cheryl
"Climate change is a big problem, but we shouldn't get so overwhelmed we don't act," CUB Communications Director Jim Chilsen said. "These tips and tricks–what many people call 'being frugal'– can be your first steps. You may already do a lot of these things without thinking about them as 'eco-friendly.' It's all about being mindful of your role in the planet, and passing it on to future generations."
As we've said before, the future of our planet is in our hands. For more tips, visit CUB's Clean Energy page, read our Year-Round Energy Saving Tips factsheet, and sign up to volunteer.