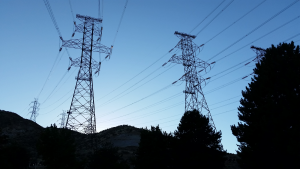 The power grid operator for Central and Southern Illinois has approved a $10.3 billion transmission line project that in the long term will bring more clean energy to the region and help prevent problems that have slammed electric customers with skyrocketing power bills this summer.
The project, approved by the Midcontinent Independent System Operator (MISO) on July 25, will add 18 major transmission lines around the central United States and support 53 gigawatts of renewable energy expected to come online starting in 2028. Just one gigawatt is enough energy to power about 750,000 homes, and an MIT study found that interstate transmission coordination and expansion could half the costs of decarbonizing the electrical grid by 2040. 
The MISO project is the first of an effort of the grid operator's Long-Range Transmission Planning (LRTP). Fellow consumer advocates say building out transmission is key to grid reliability while transitioning to clean energy. The renewable energy project will help make up for about 50 gigawatts of coal-fired power plants and other aging resources that are shutting down, explains Aubrey Johnson, vice president of system planning and competitive transmission at MISO. The last major transmission buildout MISO approved was its 2011 multi-value transmission initiative. 
Central and Southern Illinois consumers have seen a 120 percent increase in their power prices this summer, partly because of a dip in electricity supply that sparked a huge jump in the price of capacity–what consumers pay to have enough reserve power when demand is high. 
Recently, CUB joined with the Illinois Clean Jobs Coalition to hold a news conference urging MISO to fast-track 34 renewable energy generation projects that are awaiting approval by the grid operator. The coalition said MISO's approval of the transmission project was a step in the right direction. 
"Today's action to increase grid reliability and integrate more renewable energy and battery storage in MISO North is a desperately-needed positive step, but MISO must act faster to speed the conversion from dirty, expensive fossil fuels to clean, less expensive renewables," the Illinois Clean Jobs Coalition said in a statement. "That starts with moving much more quickly to approve 34 solar and wind projects presently sitting in MISO's queue." 
In other power grid news, the Illinois Commerce Commission (ICC) called for a cost-benefit analysis of Ameren Illinois shifting from MISO to the PJM Regional Transmission Organization, or RTO. (Read CUB's Capacity Market Explainer for background on RTOs.) 
CUB is pleased the ICC is doing a cost-benefit analysis, and the consumer watchdog group looks forward to seeing the results to determine the best option for Ameren Illinois' 1.2 million electricity customers.  
For more information about high energy prices, please visit www.CUBHelpCenter.com.