CUB urges Illinois utility customers to brace themselves for another costly winter heating season.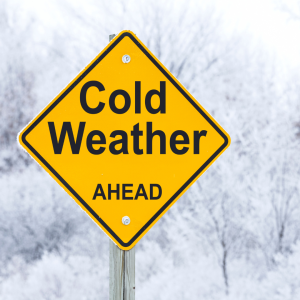 About 80 percent of Illinois homes heat with natural gas, and last winter was their most expensive since 2008-09, with many customers paying hundreds of dollars more to heat their homes. Natural gas prices have doubled or tripled from just two years, and gas futures pricing recently hit a 14-year high. 
"All indications are that gas bills will, for the second consecutive winter, be elevated," CUB Communications Director Jim Chilsen told the Shaw Local News Network. "It looks like this will be another painful winter for Illinois consumers."
According to Crain's Chicago Business, Peoples Gas customers can expect to pay around $1,440 on average from November through March while Nicor Gas customers can expect to pay about $1,223 for the same time period. That's a 44 percent and 59 percent increase from the previous year, respectively.
So what's driving the increase in natural gas prices? "The boom-bust cycle of this fossil fuel is making consumers pay," CUB Director of Governmental Affairs Bryan McDaniel has said.
It started back in February of 2021, when record cold–another example of volatile weather that's become more common–slammed the Southern United States and froze gas in pipelines and wellheads, limiting supply across the nation just as consumers needed it the most. A number of other factors have disrupted supply, including the Russian invasion of Ukraine that took place earlier this year. 
Remember, gas supply prices only make up a portion of your bill. And, under Illinois law, utilities are not allowed to profit off supply prices–they pass those costs from gas producers and marketers onto customers with no markup. 
While utilities are prohibited from profiting off gas supply, that doesn't stop them from profiting off delivering the gas to your home. Gas utility spending has contributed to the hardship customers have faced over the past year. 
In 2013, the General Assembly passed a law creating the "Qualified Infrastructure Plant" (QIP) surcharge, which allows gas utilities to sidestep the traditional regulatory process and rake in revenue more quickly, contributing to rapidly rising heating bills. (If you are an Ameren, Nicor Gas or Peoples Gas customer, check the "Delivery" section of your gas bill to see how much the surcharge is costing you.) CUB is working to eliminate the QIP surcharge from gas bills and you can help us in this fight by taking action here.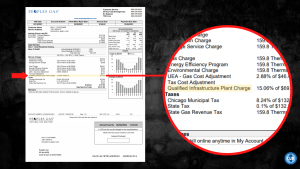 If you or someone you know is worried about heating costs this winter, there are resources available.