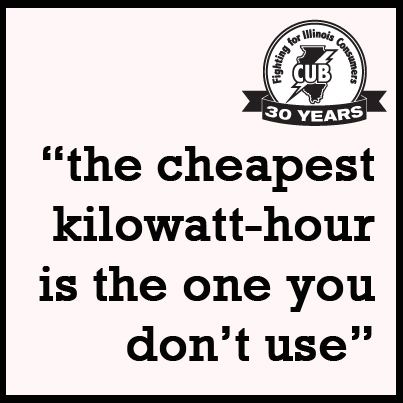 As Illinois enters the summer season and consumers face the prospect of higher electric bills to keep cool, we want to let you know some quick and simple tips to cut power bills.
"We're all hearing news about higher summer electric bills, but CUB has its own message for Illinois consumers: The cheapest kilowatt-hour is the one you don't use," CUB Executive Director David Kolata said. "Energy efficiency is the most reliable way to take control of your power bills."
Higher wholesale market prices helped push up Commonwealth Edison's electric rate by 38 percent, to 7.596 cents per kilowatt-hour (kWh), on June 1. The same changes in the market also have pushed up prices offered by alternative suppliers. Here are five simple tips to help ease the impact of higher rates and begin building an energy efficiency plan for your home:
Don't crank up the AC. If you raise your thermostat by only two degrees and use your ceiling fan, you can lower air conditioning costs by up to 14 percent over the course of the cooling season. In the summer, the fan should run counter-clockwise (from your position, looking up at it) to create a gentle downdraft. Just remember to turn the ceiling fan off when you leave the room.
Avoid unnecessary heat. Delay heat-producing tasks, such as dishwashing, baking, or laundry, until the cooler evening hours or early morning. Avoid the oven. Use the microwave or grill out.
Don't make your AC work too hard. Prevent hot air from seeping in by sealing the gaps around windows and doors and filling holes where electrical wires and plumbing pipes enter the home. Reduce the space that needs to be cooled—close doors to rooms that you don't use as often. Close blinds or shades during the day, when the sun is beating onto your home. That will prevent your air conditioner from having to work harder to cool the home.
Don't be afraid to turn the AC off. It's a myth that if you go out for part of the day, it's better to keep your air conditioner running, because when you get home it won't have to work harder to cool a warm house. However, the truth is that even for a quick errand, like a trip to the grocery store, you will save a lot of energy by turning off the air conditioner when you leave the house.
Join CUBEnergySaver.com, a free tool that helps consumers build a money-saving energy plan customized for their home. It has been showing people how to cut utility bills by an average of about $100 a year.