By Ivonne Ortiz, Environmental Outreach Coordinator, CUB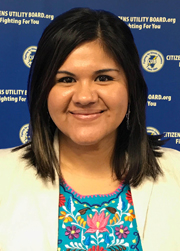 Each year, CUB helps thousands of Illinoisans who have complaints/inquiries about their utility companies.
Recently, I took the complaint of a ComEd customer who wondered why her power bills were skyrocketing. She lives alone in a condo and hadn't made any changes to her electricity usage. So she did what smart consumers do: She called ComEd (several times), and for good measure she also reached out to CUB to investigate.
I filed an inquiry with ComEd. And you wouldn't believe what the utility discovered: It turns out this customer was being billed for the wrong meter, at nearly twice her actual usage.
Your bill could spike for a number of reasons—maybe you're on a bad alternative supplier deal, or your usage went up, or you need efficiency upgrades, or ComEd got a rate hike. "Mixed meter" cases like this, or any problem with a meter, are relatively rare.
Still, I loved the outcome: ComEd issued her a refund check for $495! Whether it's $5 savings or $500, it's always nice to hear a utility customer saved money. I give her credit for reading her bills and taking the time to reach out and get to the bottom of it.
Over the last year, consumers who have called CUB or attended a CUB event have learned how to save more than $362,000. Not everyone who contacts CUB gets a refund, but at the very least you become more educated about your utility bills. And educated consumers know how to save money!
If you ever have a question, concern or complaint about your utility company, call CUB's Consumer Hotline, at 1-800-669-5556 or fill out our online complaint form.