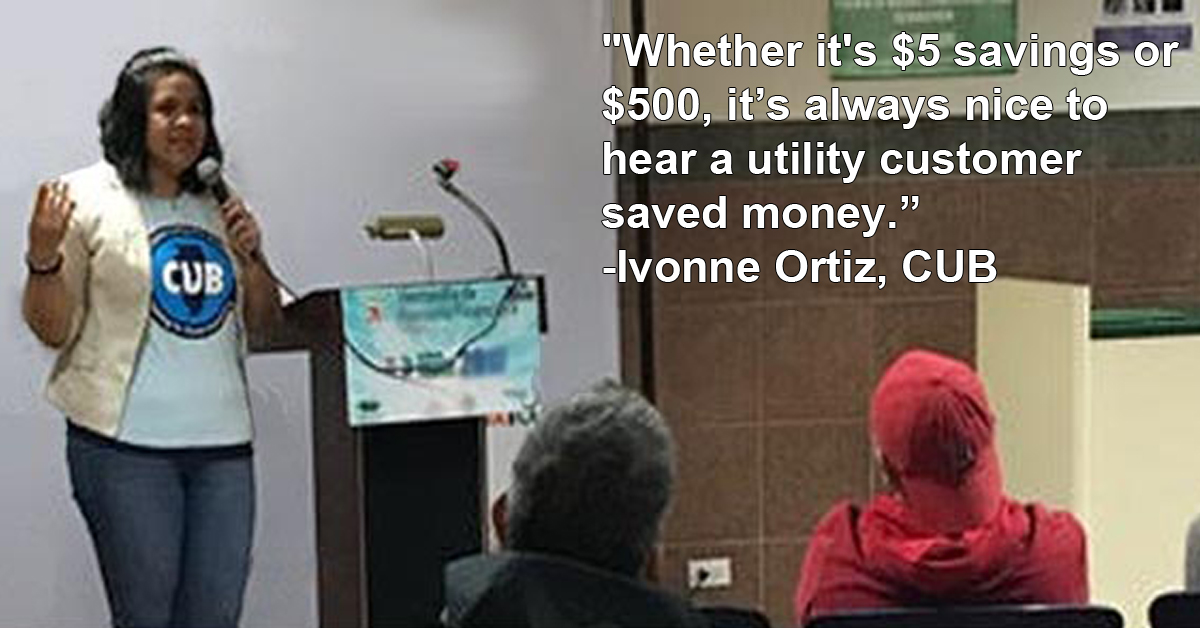 Each year, thousands of Illinoisans call CUB with complaints or inquiries about their utility companies—that includes Charlene.
The 75-year-old condo resident didn't know why her electric bill had skyrocketed. She cares about efficiency—turns off lights, unplugs unused appliances, sets the thermostat no higher than 68 degrees, and avoids energy guzzlers like space heaters. She doesn't even own a computer.
And yet her electric bill, which is normally under $100, shot up to $273 in November and then more than $300 the next month.
"I said, 'Holy cow!'" she recalled. "I was really upset, because…I can't afford to be paying those kind of bills."
Charlene did what smart consumers do: She called ComEd. The retiree figures she talked to four or five representatives of the utility. Some were helpful and nice, but she said a few talked to her "like I was a kid" and assumed she had done something wrong. The utility recommended she get the furnace checked, which she did (even though, she said, it had been checked earlier in the fall). That uncovered nothing.
"I wasn't getting anywhere," Charlene said. "You feel very lost, very alone. You feel like you're drowning."
Eventually, one ComEd rep said he would send a technician out. For good measure, Charlene took another step filing a complaint with CUB. Through the years she had heard about the consumer watchdog, so she asked her daughter to look up the phone number (1-800-669-5556) online. (Remember, she has no computer.)
Charlene filed a complaint with CUB's Ivonne Ortiz, and she's glad she did. Ivonne listened to Charlene, carefully explained the next steps in the complaint process, and asked ComEd to investigate.
"I felt very good, very calm after I talked to her," Charlene said of Ivonne.
Then the ComEd technician visited her home, and it didn't take long for him to make an amazing discovery: Charlene was the victim of a "mixed meter." Translation: She was being billed for the wrong meter, at nearly twice her actual usage.
"I spent hours looking at my bills and thinking about what I could do," she said. "I kept thinking, 'What the heck am I doing?'"
Turns out she was doing nothing wrong. Your bill could spike for a number of reasons—maybe you're on a bad alternative supplier deal, or your usage went up, or you need efficiency upgrades, or ComEd got a rate hike. A meter problem is relatively rare. Still, Ivonne loved the outcome: ComEd issued Charlene a $495 refund!
"Whether it's $5 savings or $500, it's always nice to hear a utility customer saved money," Ivonne said. "I give her credit for reading her bills and taking the time to reach out and get to the bottom of it."
Over the last year, consumers who have called CUB or attended a CUB event have learned how to save more than $362,000. Not everyone who contacts CUB gets a refund, but at the very least you become more educated about your utility bills. And educated consumers learn how to save money.
In addition to receiving a nice refund, Charlene also gained tips on being her own consumer advocate. "I think it's important to check those bills," Charlene said. "And if something seems out of whack, it is good to check your usage."
And she laughs when she repeats her new proclamation to friends these days: "If anyone needs help, let me know…I have CUB's number."
If you ever have a question, concern or complaint about your utility company, call CUB's Consumer Hotline, at 1-800-669-5556 or fill out our online complaint form.