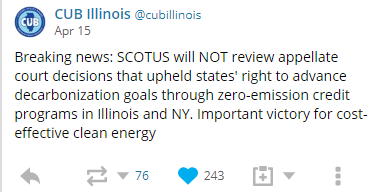 This month, Illinois consumers got good news: The U.S. Supreme Court rejected a request to review appellate court decisions that upheld the right for states to advance clean energy goals through "zero-emission credit" (ZEC) programs in Illinois and New York. On Twitter, CUB called it an "important victory for cost-effective clean energy."
The request to take up the case was filed by the Electric Power Supply Association (EPSA), a trade group for independent electric power producers and marketers. Big out-of-state corporations that own fossil fuel power plants—companies like Vistra, Calpine, and NRG—hate Illinois' ZEC program, which is part of the groundbreaking clean-energy legislation, the Future Energy Jobs Act. The act, passed in 2016, expands energy efficiency and gives financial support to clean energy generators, helping to depress prices in a key electric market, called the capacity market. (Read about the capacity market and why it's so important for your electric bills.)
CUB Executive Director David Kolata has said before that the "harm" alleged by fossil fuel generators suing the state over the ZEC program was $600 million to $900 million in LOWER annual power prices. (Lower power prices isn't a bad thing!)
The capacity market has not treated customers well in recent years, increasing their power bills. So the Supreme Court's decision not to take up the case and leave in place clean energy programs that can help lower power bills was a big victory for Illinois consumers.
But this battle isn't over. The big fossil-fuel generators are fighting the ZEC on multiple fronts. They're also before the Federal Energy Regulatory Commission (FERC) to revamp electricity market rules to protect their profits from the price-lowering impact of Illinois' clean energy policy.
So it's urgent that we pass the Clean Energy Jobs Act (CEJA). The act includes capacity market reform that guarantees savings for consumers, greatly expands renewable energy in Illinois, and secures a 100% decarbonized electric system by 2030.
Please, don't let big fossil-fuel generators win: Urge the General Assembly to pass the Clean Energy Jobs Act.