UPDATE September 2020: Thank you to the 3,000 people who emailed their representatives in Washington to oppose S 2596. It appears that the bill has stalled–for now. This is good news, but we expect this legislation will be considered again, and we'll need to fight it. Stay tuned!
---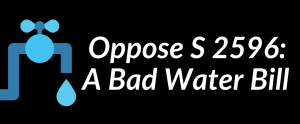 Water privatization can lead to higher bills and worsening water quality.
It raises consumer costs by almost 60 percent and results in the loss of 1 in 3 water jobs, according to Food and Water Watch. Those higher expenses have a disproportionately negative impact on poorer communities and communities of color as documented by both Food and Water Watch and the NAACP Legal Defense Fund.
CUB is thankful for the thousands of people who have helped fight for state legislation that would require a local referendum before a municipal water system is privatized. CUB will keep fighting for that bill, but now we have to turn our attention to Washington.There's a bill that's been proposed that would support and promote the privatization of water systems in Illinois and across the nation. This bill is known as the Voluntary Partnership for Distressed Water Systems Act, or S 2596.
S 2596 creates strong incentives for water systems that are not in compliance with drinking water standards to reorganize by privatizing the system. It encourages water privatization. We need to alert our senators and representatives immediately, because the water lobbyists are out in full force trying to sneak this bad bill through. Within a week, this bill could be acted on, so please join CUB today in opposing S 2596.