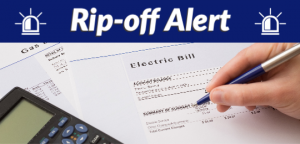 Everybody is worrying about costs these days—I know we talk to a lot of concerned consumers. That's why CUB is issuing this warning. If you get pitched any of these offers, be careful!
Maintenance plans. They peddle peace of mind ("the unexpected—protected," says one ad). But maintenance plans offered to utility customers often turn out to be too expensive. Read our latest WatchBlog article.
Alternative supplier "deals." Ameren and ComEd power prices are down, making it even more difficult for alternative electricity suppliers to beat those rates and save you money. In fact, the Illinois Attorney General's Office says residential and small commercial customers have lost more than $870 million to bad electric deals since 2015! Read our fact sheets on how Ameren and ComEd customers should protect themselves. 
Robo-scams. In a survey this spring, nearly 25 percent of respondents said they had received an uptick in robocalls since the COVID-19 outbreak, and 37% of respondents said they had yelled at or used bad language with a robocaller. (We recommend you just hang up.) Typically, at the top of the list of scams are imposters claiming to be from the Internal Revenue Service or the Social Security Administration. Scam artists will always try to take advantage of a crisis to rip people off—don't fall for their tricks. Read our tips. 
Thanks for reading, and please stay safe and healthy!