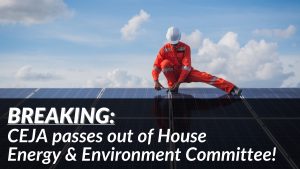 The Clean Energy Jobs Act (CEJA) took an important step forward Monday, as members of the Illinois House Energy & Environment Committee voted it out of committee.
CEJA now moves to the full Illinois House of Representatives for debate and a potential vote on the floor. In addition, a subject matter hearing on equity is scheduled for Wednesday, March 17 at 2:00 p.m.
"We still have a lot of work to do to secure clean, affordable energy for Illinois consumers and hold utilities accountable, but this is a key step forward," CUB Executive Director David Kolata said after the committee voted 18-11 to advance CEJA.
Kolata urged Illinois consumers to send a message to their legislators to urge them to support CEJA (House Bill 804/Senate Bill 1718).  CEJA now has more than 40 co-sponsors, including chief co-sponsor House Speaker Emanuel "Chris" Welch, a longtime champion of the measure.
"The passage of this comprehensive energy package out of committee today marks a critical step forward and away from the days of backroom deals that put utility company profits before people," said state Rep. Ann Williams, chief House sponsor of CEJA and chair of the House Energy & Environment Committee. "CEJA is the product of years of grassroots-driven conversations held in communities across Illinois."
CEJA would move Illinois to 100 percent clean energy by 2050, while protecting consumers power bills. CUB supports the legislation because it would:
hold utilities accountable by ending formula rate increases that burden consumers and small businesses;
implement electricity market reforms to protect customers from up to $1.7 billion in higher power bills over the next decade;
promote policies to reduce expensive peak demand that increases consumers' electric bills as well as expand cost-cutting efficiency programs, bringing about $700 to $800 million a year in utility bill savings;
promote vehicle electrification and money-saving smart-charging policies, cleaning up the transportation sector that is now the biggest contributor to climate change.
Additionally, CEJA would attract billions of dollars in private renewable energy investment to Illinois, and create thousands of clean energy jobs without raising taxes, hiking power bills, or giving bailouts to Exelon or fossil fuel companies. In a poll taken last May, 82 percent of Illinois voters surveyed said they support CEJA to aid in COVID recovery.