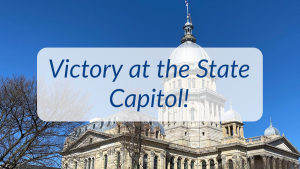 The General Assembly has passed landmark energy legislation that consumer and environmental advocates have worked for years to achieve. The Climate and Equitable Jobs Act puts Illinois on a path to 100 percent clean energy while implementing the strongest utility ethics reforms and energy efficiency provisions in state history. And it aims to provide a spark to the economy by bringing thousands of clean energy jobs to communities that need it the most.
"The General Assembly's passage of the Climate & Equitable Jobs Act is a victory for consumers and the environment. This comprehensive clean energy legislation ensures that, as Illinois mounts an urgently needed defense against catastrophic climate change, the state is on a path to achieve an affordable clean energy future and hold utilities more accountable, " CUB Executive Director David Kolata said in a statement. "Without this blueprint, Illinois consumers were destined to pay higher electricity bills as climate change continued unchecked and the costs of long-term capacity reserves in energy markets escalated."
The act (Senate Bill 2408) passed the House 83 to 33 Sept. 9, and the Senate 37 to 17 on Sept. 13. (See how your senator and your representative voted.) Gov. J.B. Pritzker, who has championed comprehensive energy legislation, signed the bill into law on Sept. 15 in a ceremony at Chicago's Shedd Aquarium. (Watch CUB's Facebook Live about the Climate & Equitable Jobs Act.)
CUB, as a member of the Illinois Clean Jobs Coalition, had worked for passage of the 2016 Future Energy Jobs Act, which in itself was a historic clean energy breakthrough. For the last two years, the coalition–a group of 200 consumer, business and environmental groups–supported the Clean Energy Jobs Act (CEJA) as the best way to protect consumers' utility bills and fight climate change by moving to 100 percent clean energy.
The coalition added strong utility accountability provisions to the legislation after ComEd was caught by federal prosecutors in a corruption scandal over its attempts to pass energy legislation that allowed it to secure hundreds of millions of dollars in rubber-stamped rate hikes.
CEJA was one of about a half-dozen energy bills being considered by the Illinois General Assembly. The governor, who in January of 2020, called for energy legislation that would put "consumers and climate first," re-started negotiations earlier this year to develop a compromise bill. As with any compromise bill, CUB doesn't support everything in it, but if implemented correctly the legislation will be a big net win for consumers.
A summary of provisions in the bill is below.  (The Clean Jobs Coalition also has a breakdown of the bill.)
Responsible path toward 100 percent clean energy: Moving Illinois—and the nation—to 100 percent clean energy will be a complex process. The act calls for:
Achieving a carbon-free power grid by 2045. It would eliminate most coal- and oil-fired power generation by 2030, and require pollution-reduction targets for the municipally owned Prairie State and Dallman coal plants. They would have to reduce their carbon emissions by 45 percent by 2035, and eliminate greenhouse gas emissions by 2045.
Increases support for renewable energy to reach 40 percent by 2030 and 50 percent by 2040. While the Future Energy Jobs Act (FEJA) led to a solar boom, limitations in the law caused that boom to sputter over the past year. The new legislation would revive solar power, giving more people access to this renewable energy and also allowing solar businesses to continue investing in Illinois renewables, with a focus on developing an equitable workforce and supporting diverse contractors.
Creates a process to explore a new low-income rate and prohibits late fees and customer deposits for more low-income customers.
Increases funding for the Illinois Solar for All program—which gives lower-income customers access to solar power—from $10 million a year to $50 million a year.
Provisions to hold utilities more accountable: After the ComEd scandal, the Clean Jobs Coalition pushed for stronger accountability provisions in the bill, and many of them are in the final compromise bill.
Replaces the unfair formula-rate system with a rate-setting system that provides more oversight by the Illinois Commerce Commission (ICC), emphasizing cost-effectiveness and customer affordability.
Requires the ICC to develop performance and tracking metrics and incentives to get the utility to achieve specific pro-consumer outcomes. The ICC would hold annual performance evaluations to review performance and establish rewards/penalties that are flowed through rates the following year.
Creates an independent ethics monitor, hired by the ICC, to help watchdog utilities. Ameren and ComEd must have an ethics compliance officer at their headquarters to assure that each utility is following ethics guidelines—including restrictions on and transparency into utility lobbying and spending—and cooperating with the independent monitor.
Requires utilities to share the savings from the federal corporate tax cut over about 5 years, rather than the decades the utilities favored.
Requires public officials to disclose if immediate family members work for utilities. Also, ComEd is prohibited from forcing customers to pay for any criminal penalties associated with the scandal.
Requires expanded rate options, including an investigation into a low-income rate for Ameren and ComEd customers. It also requires both utilities to launch voluntary time-of-use rates that could help certain customers save money on their electric bills.
A major expansion of cost-saving opportunities: CUB has long argued that the cheapest kilowatt-hour (kWh) is the one you don't use. The Future Energy Jobs Act (FEJA) in 2016 established historic commitments for ComEd and Ameren to reduce energy waste. This act improves on energy efficiency standards that have already saved consumers billions of dollars.
The legislation extends electric energy efficiency programs, ensuring savings for Illinoisans beyond the 2030 end date mandated by FEJA. It also raises required investments to help households with lower incomes be more efficient with their energy use, helping them keep their homes safe and comfortable and bills manageable.
Adding more renewable energy to the power grid, as this legislation does, opens the door to lower "capacity" costs for reserve power, and that would mean lower bills. Capacity costs, which are wrapped into the price we pay for electricity, are a major reason for higher energy bills.
Also, fighting climate change reduces future costs. CUB's research team found that hotter weather could cause ComEd electric bills to increase by nearly $11 billion in decades to come.
The legislation also:

Requires more reporting from utility energy efficiency programs to ensure they're being implemented equitably.
Helps lower-income families fix health and safety problems found when they do efficiency upgrades.
Helps community groups give more input to the utilities about their efficiency programs.
Allows large energy customers to take advantage of energy efficiency programs.
A strong planning process: One of the strengths of this legislation is long-range planning to find least-cost ways to fight climate change and move to 100 percent clean energy. The legislation:
Sets up an ICC workshop process–in which diverse groups and non-lawyers will be encouraged to participate–to set up a Multi-year Integrated Grid Plan. That's basically a roadmap for utility investment over a four-year period to cost-effectively integrate renewable energy, electric vehicles and other clean energy improvements into the grid.
Creates a Multi-year Rate Plan, which is supposed to reflect the investments outlined in the grid plan. After more workshops, the ICC will devise performance metrics to emphasize reliability, affordability, equity, customer service and reducing electricity demand at peak times. (Reducing peak electricity load has to be part of any strategy to reduce costs for electric customers.) Additional metrics will measure goals such as reducing harmful greenhouse gas emissions, job creation, and that improvements are helping communities most impacted by pollution and poverty.
The Multi-year Rate and Multi-year Grid plans are both supposed to ensure greater transparency into utility investments and that those investments are cleaning up the power grid in a cost-effective way.
Paving the way for cleaner, more affordable transportation options: For years now, CUB has argued that Illinois needs to prepare for a future when electric vehicles will dominate Illinois roadways. Gas-powered cars have become one of the biggest drivers of climate change. Strong policy will help the environment, but also help control energy costs and give all Illinoisans access to electrified transportation, which can be dramatically less expensive than traditional forms of transportation. The legislation:
Aims to to put 1 million battery-powered cars and trucks on the road by 2030. It would create rebates of up to $4,000 for customers who buy electric vehicles.

Commits up to $80 million per year over the next decade to electric transportation, with nearly half of the benefits going to communities hit hardest by pollution.

Helps lower-income communities benefit from EVs, through creative programs such as car-sharing and lower-income EV rebates.
Requires new and renovated commercial and residential buildings to be wired for EV charging.
Includes incentives for electrifying public transit, school buses and city-owned vehicles.

 
Support for Exelon's nuclear plants: Exelon got billions of dollars less than what it wanted. The cheapest, fastest way to 100 percent clean energy means Illinois has to rely on carbon-free nuclear plants as the state ramps up renewable energy. The legislation requires the company to prove on a yearly basis how much support it needs.
CUB estimates the legislation will cost customers an average of between $3 and $4 per month over the next five years. That cost estimate doesn't include savings made possible by this legislation (for example, savings from energy efficiency, low-cost solar energy, lower capacity and energy prices). With proper implementation, the bill should lead to consumer savings over time and reflects a consumer-friendly approach to solving for climate change.
It's a compromise bill, so CUB doesn't agree with all the provisions. For example, while the act expands and improves electric efficiency, it does not contain gas efficiency provisions that could have reduced heating bills by hundreds of millions of dollars a year. CUB will continue to fight for efficiency improvements in the years ahead.
But all told, these are historic improvements for energy customers in Illinois, and this bill is a big net win for consumers.
"CUB's job now is to help solidify the victory for consumers, by rolling up our sleeves and working with all parties—legislators, regulators, utilities and consumer groups—to implement this bill correctly and reap the full potential of its promising outlook for consumers," Kolata said.