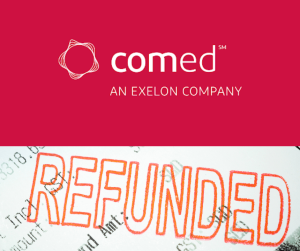 What happened? 
While ComEd's electricity price is going up on June 1, historic clean energy legislation that Illinois adopted last year is paying off for ComEd customers in the form of a monthly credit estimated to average about $18 to $20 on electricity bills starting June 1st.
In a filing with the Illinois Commerce Commission (ICC), ComEd announced it would give customers a rebate of about 3.5 cents to 4.3 cents per kilowatt-hour (kWh) on monthly bills over the next year. This is the result of a provision in the Climate & Equitable Jobs Act (CEJA), supported by CUB and championed by Gov. J.B. Pritzker and a bipartisan group of legislators.  The credit amounts to about $1 billion for residential customers collectively over the next year.
(Send a thank you message to Springfield about CEJA.)
How much is the credit?  
It depends on your usage, but estimates of the credit range from an average about $18 per month to $20 per month, beginning June 1. The ICC said the credit works out to about $19.71 per month, or nearly $237 a year, for the average customer.
Is ComEd's power price going up on June 1?
Yes, ComEd's supply rate is increasing by more than 60 percent, to 11.041 cents per kWh on June 1. Energy prices across the globe are skyrocketing due to a number of factors, including the Russian invasion of Ukraine.* Market conditions could change, but the good news is for now the CEJA credit is offsetting the the increase in supply. ComEd has estimated that the savings could be an average of about $10 a month.
(*Quick explanation: Russia has been a major supplier of natural gas to Europe, but the war has disrupted that supply or at least made it uncertain, creating demand for more gas from the United States. That has helped raise prices in the United States. An extended period of high gas prices often leads to higher electricity prices, because gas is used to generate power. But there are a lot of reasons for the high gas prices.)
What do I have to do to get this credit?
Nothing. This credit is going to all ComEd residential customers. You don't have to apply for it or take any other action. 
When does the credit start? 
The credit will run from June 1, 2022, through May 31, 2023.
How will the credit appear on my bill? 
The credit will appear on ComEd bills beginning in June as a line item called "Carbon-Free Energy Resource Adjustment."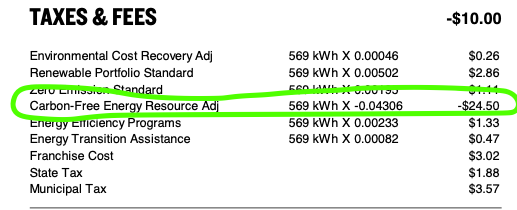 What provision in CEJA led to this credit?  
Here's more detail, according to the ICC:
CEJA contains a provision designed to protect consumers in the event of skyrocketing energy prices that the world is experiencing now. The law created a "Carbon Mitigation Credit" designed to give nearly $700 million over five years to keep three nuclear power plants open: Byron, Dresden and Braidwood. CUB Note: Keeping carbon-free nuclear power plants open is the fastest, cheapest way for Illinois to fight climate change, and serves as a bridge to the day when Illinois is fully powered by clean energy.
But customers haven't paid a penny to the plants. That's because the Carbon Mitigation Program also provides protection to Illinois customers if wholesale energy prices shoot up over a certain level. Amid dramatically high energy prices, the nuclear plants are earning more, so they don't need the subsidy, and CEJA requires the owner of the plants, Constellation, to give it back to customers in the form of a credit.
How long will the credit last? 
Through May 31, 2023, for sure. If energy prices were to drop, the credit would end. However, according to the Illinois Clean Jobs Coalition, of which CUB is a member, the credit could continue for several years, under current electricity price forecasts.
Are there any other factors saving customers money? 
Yes. While the CEJA credit is the biggest factor, another is a significant drop in the price we pay for "capacity." Capacity refers to payments to power plants to make sure they have enough reserve power to deal with electricity demand when it's highest. The price is decided by an auction, and then gets wrapped into the price of electricity. In the last capacity auction, the price dropped from $198 a Megawatt/Day to $69 per MW/day, contributing to significant savings for customers.