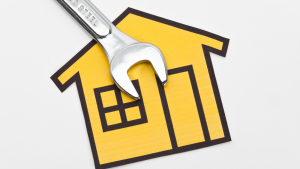 In 2021, homes across the country used about 235 billion kilowatt-hours of electricity to cool their homes–that's about 16 percent of total residential energy consumption. So as we prepare for an expensive summer, it pays to improve your home's efficiency. CUB put together a  home-improvement shopping list for better energy efficiency on any budget. 
The prices listed below are estimates based on a CUB review of energy efficiency items on home improvement store websites. (Also, ComEd customers, check out the utility's Marketplace.) Remember, when shopping for products, look for the Energy Star label, signifying high efficiency.
For Lower Budgets: Under $25 
At Home Energy Assessment (Free)-

Before heading to the store, find out if you can get some of these items for free. Call your electric utility to ask about a free home energy assessment. During an assessment, an energy advisor will walk through your home to suggest improvements and install money-saving products, such as LEDs and efficient showerheads. Learn more about: 

Ameren's program

(This free service is for customers who meet income requirements.)

LED Light Bulbs ($7) –

switch out your incandescent light bulbs for LEDs, which last 10-25 times longer and can save you $30-80 over their lifetime. They add light without putting out heat like traditional bulbs, so you won't need to worry about the lights working against your AC. In Illinois, you can get discounted bulbs, thanks to energy efficiency programs that CUB supported.

Weatherstripping ($10) –

Help seal small cracks around windows and doors with weather stripping. (

Tips here.) 

Expanding Spray Foam ($5)

is a great alternative for hidden areas, such as the garage, basement and attic. 

Faucet Aerator ($5) –

This doesn't deal with electricity but it's still a money-saver. Use an aerator to add air and water pressure to your faucets without increasing the amount of water put out. A win-win – conserving water without sacrificing comfort.  
For Moderate Budgets: Over $25 
Blinds or curtains ($25+) –

Adding blinds, curtains, and drapery can help block out sunlight, which can reduce heat gains by 33%. Close your curtains or blinds while away from home to help keep your house cooler. 

Smart Power Strip ($30+) –

Smart power strips are a great way to cut out

vampire energy

drains in your home by turning off power where it isn't needed. One such smart power strip from Energizer offers an app to create custom schedules based on your daily routine and is voice control compatible with Siri, Alexa, and Google Assistant.

Air Filters ($30) –

If you have Central Air, change and clean your filters about every 90 days (or about every 30-60 days for pet owners) to help your HVAC system work more efficiently. If you have a room air conditioner, it's recommended that you dust and wash the filter every month to keep it in top shape. 

Low-Flow Shower Head ($25+) –

Much like a faucet aerator, a low-flow showerhead works to improve flow in a showerhead with air to conserve more water. Check for the WaterSense label when purchasing and use the

EPA's online search tool

for more details. 

Water Heater Blanket ($30) –

Add a water heater blanket and reduce your hot water tank temperature to 120 degrees Fahrenheit for a cost savings upwards of 6-10%.

Programmable thermostat ($40+) –

Gives you more control to put your home's temperature at the ideal level for saving money and staying comfortable. Check with your utility about energy efficiency assessments, as there's a good chance the program will install such a thermostat for free.  
Note: Carbon Monoxide Detector ($25-30) – every home should have a carbon monoxide detector installed, especially in homes with improved insulation and energy efficiency. If you're a renter, ask your landlord to confirm that one's installed and functional as is required by law. 
For High Budgets: Over $75 
Ceiling fan ($80+) –

Add a ceiling fan to work in tandem with your HVAC system to cool you down. For maximum benefits, you can rotate the fan direction in the winter to help with heating. 

A box fan

can add similar effects at a lower cost. 

Smart Thermostat ($120-250)-

Install a smart thermostat to better monitor your HVAC system, which can cut your heating and cooling costs by up to 20 percent. (

Check out the discounts available on these devices.)

As we noted above, a

programmable thermostat

is a less expensive alternative and offers similar cost-saving benefits. Check with your utility about energy efficiency assessments, as they'll often install one for you for free. 

Rain barrels ($95-$150) –

Install a rain barrel system to help maintain your plants and landscaping while conserving water. These can be outfitted with a watering hose for easy distribution. Check with your city or county about rain barrel programs. For example, the Metropolitan Water Reclamation District has a

subsidized rain barrel program

for residents of Cook County. 
Mix and match several of the tips on these lists to get more efficient and prepare for higher energy bills this summer. For more information, check out the CUB Help Center, visit CUB's Clean Energy page, or read the Year-Round Energy-Saving Tips Factsheet.