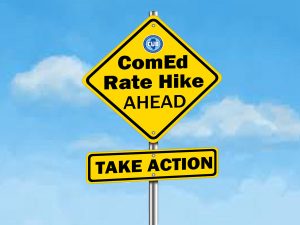 ComEd will file with state regulators to hike its delivery rates by about $1.5 billion over four years beginning in 2024, Crain's Chicago Business reported.
In a statement, CUB promised to challenge the increase: 
"ComEd's four-year, $1.5 billion request is terrible news on top of the record rate-hike requests that customers are already dealing with from Nicor Gas and Peoples Gas. CUB will do a thorough review, but it's immediately clear that the utility giant wants an excessive profit rate for shareholders. That's why we will join with other consumer advocates to fight it. We will scrutinize ComEd's filing to challenge every penny the company can't justify. Making strategically smart, consumer-friendly grid improvements can help save customers money in the long-run, but that shouldn't mean ComEd gets an excessive profit rate for shareholders."  (Sign CUB's petition.) 
Under the request, ComEd would raise delivery rates by $894 million in the first year alone, what would be ComEd's highest one-year increase ever. After that, rates would increase by an average of $198 million annually from 2024 through 2027. That would increase monthly household electric bills by an average of $4.25 a month each year, for a cumulative increase of $17 a month by 2027.  
A major component of the rate-hike request is ComEd's 10.5 percent return on equity (ROE, or profit rate for shareholders). The requested ROE, if approved, would rise incrementally to 10.65 percent in 2027, Crain's reported.
This rate increase will impact the delivery portion of consumers' bills. All consumers pay delivery rates to cover the utilities' costs of building and maintaining the grid that sends electricity to our homes (plus a profit). Customers will pay this rate hike even if they choose an alternative supplier.
ComEd made this filing under a new four-year rate-setting process that replaced the unfair formula rate-setting system that was at the heart of the ComEd corruption scandal with a system that is more transparent and gives the Illinois Commerce Commission (ICC) more authority to challenge rate hikes.
Investments to improve the system and make it more efficient for consumers are good, but that doesn't mean the company should get an excessive profit rate for shareholders. That's why CUB and other consumer advocates will be involved in these rate cases to reduce the ROE and the hikes as much as possible
In related news, ComEd customers this month are seeing the beginning of a $434 million tax-related rate cut that a provision in CEJA delivered.