What happened? 
ComEd's electricity price has been elevated since June 1, 2022, but the Climate & Equitable Jobs Act (CEJA), historic clean energy legislation that Illinois adopted in 2021, has delivered more than $1 billion in credits on electricity bills. CUB is pleased Gov. J.B. Pritzker and a bipartisan group of legislators made sure this consumer protection was built into CEJA.
How high is ComEd's power price? 
ComEd's supply rate has been elevated for about a year, by between 24 percent to 60 percent. Currently, the rate is 9.665 cents per (kilowatt-hour) kWh. This rate includes the supply price and a transmission charge. ComEd does not profit off the price of electricity—they pass those costs onto customers with no markup. This rate is in effect through May 31, 2023.
Energy prices across the globe have been skyrocketing due to a number of factors, including the Russian invasion of Ukraine.* The CEJA credit has given consumers some relief from this spike.
*Quick explanation: Russia has been a major supplier of natural gas to Europe, but the war disrupted that supply, or at least made it uncertain, creating demand for more gas from the United States. That has helped raise prices in the United States. An extended period of high gas prices often leads to higher electricity prices, because gas is used to generate power. (Read more about  the high gas prices.)
How much is the CEJA credit?  
According to a ComEd filing with the Illinois Commerce Commission (ICC), the rebate, which appears on your bill as the "Carbon-Free Energy Resource Adjustment," has ranged from .033 cents per kilowatt-hour (kWh) to 4.3 cents per kWh on monthly bills. It depends on your usage, but at its highest, the credit averaged from $18 to $20 per month. In total, the credit has collectively delivered an estimated $1.3 billion for residential customers. A complex number of factors, however—including the volatility of the energy markets and the timing of the state's power purchases—have combined to lower the credit this spring. This is expected to last for several months.
How do I qualify for the credit?
This credit is going to most ComEd residential customers. You don't have to apply for it or take any other action.
How long will the credit last?
The initial credit started on June 1, 2022 and will run through May 31, 2023.
How will the credit appear on my bill? 
The credit appears on ComEd bills as a line item called "Carbon-Free Energy Resource Adjustment."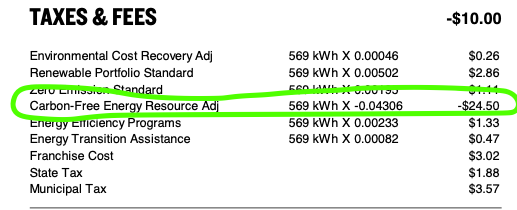 What provision in CEJA led to this credit?  
Here's more detail, according to the ICC:
CEJA created a "Carbon Mitigation Credit" designed to give nearly $700 million over five years to keep three nuclear power plants open: Byron, Dresden and Braidwood. CUB Note: Keeping carbon-free nuclear power plants open is the fastest, cheapest way for Illinois to fight climate change, and serves as a bridge to the day when Illinois is fully powered by clean energy.
But the Carbon Mitigation program also provides protection to Illinois customers if wholesale energy prices shoot up over a certain level. Amid dramatically high energy prices, the nuclear plants were earning more, so they didn't need the subsidy, and CEJA requires the owner of the plants, Constellation, to give it back to customers in the form of a credit.  So far this has resulted in more than $1 billion sent back to ComEd customers.
Are there any other factors saving customers money? 
Yes. While the CEJA credit is the biggest factor, another is a significant drop in the price we pay for "capacity." Capacity refers to payments to power plants to make sure they have enough reserve power to deal with electricity demand when it's highest. The price is decided by an auction, and then gets wrapped into the price of electricity. (Read CUB's Capacity Market explainer.) In the last capacity auction, the price dropped from $198 a Megawatt/Day to $69 per MW/day, contributing to significant savings for customers. So while the price for electricity itself has gone up because of market conditions, the capacity component of the supply price has gone down.
If I am having trouble affording my utility bills, what can I do?  
There are several actions consumers can take:
See if you qualify for energy assistance. The application process for the Low Income Home Energy Assistance Program (LIHEAP) has reopened through May 31, 2023, or until funds are exhausted. Households at or below 200 percent of the federal poverty level are eligible for LIHEAP funding. To apply or learn more, visit www.helpillinoisfamilies.com or call the Help Illinois Families Assistance Line at 1-833-711-0374.
Contact your utility. If you are having trouble affording your energy bills, it is vital that you contact ComEd. Ask if you qualify for any energy assistance programs; see if you can set up a payment plan to give you a longer time to pay off your bills; and inquire about no or low-cost energy efficiency programs the company offers. Visit ComEd.com/SAM for more information on assistance programs.
Practice energy efficiency at home. For tips and information about helpful ComEd energy efficiency programs, visit CUB's Clean Energy page. Also visit CUBHelpCenter.com for more information about energy assistance, tips on cutting your bills and your rights to avoid disconnection.
Consider a community solar deal to help ease costs. A CUB review of community solar offers in ComEd territory found that all promised savings for consumers, compared with ComEd's supply price. But be a careful shopper: Get more information at our special website, SolarInTheCommunity.com. (Note: Several of the offers have a waitlist, so check with the companies.) 
Should I switch to a new electricity supplier? 
Warning: Alternative suppliers purchase power in the same electricity market – so they will also charge higher prices.
However, it doesn't hurt to inquire if your community has negotiated a "municipal aggregation" or "community power" deal with an alternative supplier at a lower rate than ComEd's price. Just make sure to find out what the true price of the offer is, and when it expires. (Municipal aggregation is when community leaders negotiate with an alternative supplier to try to secure an electricity price that is lower or comparable to the utility price.)
If you also want to consider other alternative supplier deals—beyond community aggregation—we advise you to be cautious. Be careful about getting lured into a long-term bad deal that is pitched to you over the phone, via mail or from a door-to-door sales representative. A company may offer a low introductory rate that will skyrocket after a short period. (Before signing up, ask how long a rate lasts and what the new rate will be after the current price expires.) Also, be wary of add-on fees that can raise the cost of the plan. Finally, be careful of multi-year deals. ComEd's price will eventually come down so you don't want to get locked into a long-term deal that goes sour a year or two into it.