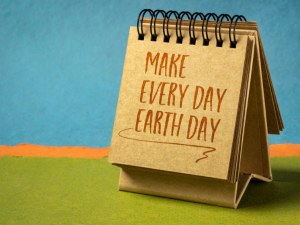 In this week leading up to Earth Day, on Saturday April 22, we've rounded up a list of five ways you can mark the moment, with the help of CUB resources. This year's Earth Day theme is "Invest in our Planet," which fits nicely with CUB's message that clean energy lowers utility bills. See our checklist of actions to consider this week, and any week: 
Do some spring cleaning and practice energy efficiency 
As we look forward to summer, we start with the basics–because the cleanest, cheapest energy is the energy we don't use. CUB recommends simple actions, like turning off the lights and fans when you leave the room. But springtime is a great opportunity to get your home energy efficient for the summer. Also….
Consider Solar  
There's never been a better time in Illinois history to go solar. But not everyone can install panels on their property (people who have a lot of shade, or apartment dwellers). But in Illinois, you can still get the benefits of solar power without having to install solar panels on your roof. Community Solar allows you to subscribe to a portion of the output of a solar installation (a.k.a. community solar garden) somewhere in your utility's territory to offset part of your electricity usage. Check out our Solar in the Community website for more information–currently, all of the companies offering community solar subscriptions offer savings for consumers. The program is open to all customers, no matter your income. In fact, the Illinois Solar for All program is designed for income-qualified customers and guarantees savings up to 20 percent – our ILSFA landing page has details. 
Learn more about geothermal heat pumps (and other heat pumps)  
What better way to celebrate Earth Week than to learn how the Earth can help you cut your utility bills? Much like a refrigerator, heat pump systems utilize electricity to move heat from cool spaces to warm spaces and vice versa. Depending on the season, geothermal heat pumps use electricity to move heat from the ground to your home and or from your home to the ground, and CUB Carbon Free Buildings Coordinator David Weaver reports that geothermal can reduce energy costs by up to 70 percent compared with traditional heating and cooling systems. That's why CUB has launched its first-ever geothermal group-buy program. Grow Geo, in partnership with Midwest Renewable Energy Association and the Geothermal Alliance of Illinois, is designed to help Chicago-area consumers install a geothermal heat pump system at a discount and cut their utility bills going forward. Maybe you're not ready to make the leap yet, but knowledge is power: Attend a presentation on the program (they're called Power Hours) to educate yourself about geothermal heat pumps. If geothermal isn't right for you, learn more about another efficient alternative, air source heat pumps. 
Plant native trees for Enviroscaping
Get your hands dirty–and plant some trees! In honor of Earth Month, we released Enviroscaping 101, our first-ever guide on how to use landscaping to help save money on your utility bills and help your community. This guide will help inspire your spring gardening plans with helpful information and resources.
Reduce, Reuse, Recycle 
It's a classic for a reason– reduce reuse and recycle to make a big impact on the environment. Finding creative ways to reuse items is the cheapest and most sustainable way to improve your home.
Bonus action: Fight rate hikes! 
At CUB, we're fighting a two-headed beast: Climate change and energy burden (high utility bills!)–you can't fight one without fighting the other. So we can't ignore the fact that Illinois utilities are pushing for $2.9 billion in rate hikes in 2023. That includes about $900 million in dirty, fossil fuel rate hikes from the natural gas utilities. So these actions should go hand-in-hand with anything you do for the planet: Sign our petitions against…
We wish you all a meaningful Earth Week. Sign up for our e-newsletter for more ways to fight for clean, affordable energy.