By Sagar Dommaraju
What better holiday than Independence Day to free yourself from high electricity costs. Follow these tips for the perfect Fourth of July weekend.
First, take a holiday from the daily bustle and leave your electronics—computers, TVs, phones, printers—alone for the weekend. Make sure to unplug them completely (or use a smart power strip).
Running the air conditioner accounts for more than half the summertime energy usage in an average American household. This weekend turn the AC off (cooling an empty home is a big NO), and head out to the backyard for a barbeque, check out a local parade, or escape the heat by taking your kids for a splash at the local pool.
If you have to stay indoors, ceiling fans are a great supplement to traditional cooling systems. You can cut costs by 14 percent when you raise your thermostat by two degrees and use a ceiling fan. Just make sure it's creating a gentle downdraft—running counter-clockwise from your position looking up.
Give yourself a holiday gift: Invest in a thermostat that lets you tailor a heating/cooling schedule that matches your needs. Programmable thermostats can save you $180 per year with proper use. (Bargain Alert: Right now, Northern Illinois consumers can enjoy $150 in rebates for smart thermostat.)
If you are having a backyard party, here's a tip: In the evening, illuminate the festivities
with pretty and efficient LED party lights. If you stay indoors, just turn the lights off and enjoy a night of fireworks out the window.
Some of the best summer party foods don't require heating or much preparation! Sandwiches, watermelon, pasta salad—the possibilities are endless. (Here's a fan favorite: A red, white, and blue parfait with strawberries, yogurt, and blueberries!)
Independence Day, of course, gives you a perfect excuse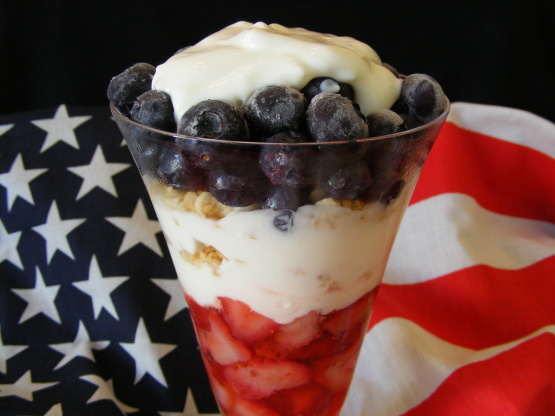 (as if you needed one) to fire up the grill and avoid the in-home oven—which releases extra heat and puts more strain on your air conditioner. (I'm sure you have a favorite BBQ recipe. Here's mine: Grilled tandoori chicken recipe.)
Your AC works hard in the summer. It's only right that you let it take a break this holiday, too!