We want to warn you about an impending electric rate hike that could cost you and your neighbors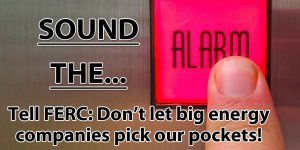 hundreds of millions of dollars. And it's for no good reason.
We call it a hidden hike—because it's likely you haven't heard what's going on at the Federal Energy Regulatory Commission (FERC). A little background:
In 2016, CUB supporters like you helped pass the landmark Future Energy Jobs Act. The new state law aims to improve energy efficiency programs and reduce Illinois utility bills by billions of dollars.
But here's why we need you to take action again: Giant out-of-state power generators—the big corporations that sell electricity to ComEd—are angry that Illinois' new energy policies are lowering power prices and hurting profits for their aging power plants.
So they're trying to gouge us in Washington. The big generators want FERC to revamp electricity market rules to increase power prices by tens of millions of dollars, if not hundreds of millions.

This is urgent: FERC could rule on this issue next month. Our legal team is on the case. Please support them by signing our petition urging FERC to stop giant power generators from picking our pockets.