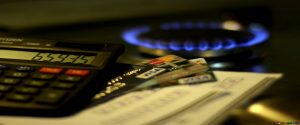 Midwestern homes that heat with natural gas on average could see a 14.5 percent increase in bills this winter, according to the Energy Information Administration (EIA). But gas customers in Central and Southern Illinois are seeing their costs go down.
The Energy Information Administration (EIA) says consumers will see higher heating bills due to a rise in consumption and prices.
Crain's Chicago Business reported that Peoples Gas is estimating the average  resident will spend more than $800 in heating costs through March, compared with about $787 last year. For suburban residents, Nicor's December price (36 cents per therm) is still 21 percent lower than Peoples' (45.49 cents per therm).
Last year, city residents paid 80 percent more for heat than their suburban neighbors. The main reason for the price disparity is Peoples' ongoing pipeline replacement program, which CUB worries could spark a heating-affordability crisis.
Nobody disagrees that the pipes should be replaced, but CUB argues the company should go about it in a more cost-efficient manner.
In central and downstate Illinois, customers are actually seeing their heating costs drop. The Illinois Commerce Commission (ICC) approved a change in Ameren's gas delivery charges. Customers will see this portion of their bill reduced by 94 cents, in addition to a 10 percent drop in supply costs.
Residents are expected to pay almost $3 less for gas each month. By January, customers enrolled with Ameren for both gas and electricity will see an $8 decrease in their monthly bills.
Steve Daniels, Crain's Chicago Business reporter, has been covering the latest in heating prices for Chicago-area consumers. Read how 1 in 10 Chicago Households Threatened with Gas Cutoffs this Year and why Chicago Households Could Pay Much More for Heat this Winter.
Winter heating bills making you scratch your head? Check out CUB's guide to Making Sense of Your Gas Bill.