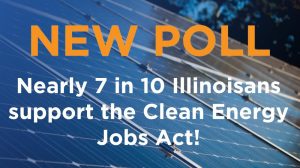 A new poll shows 7 out of 10 Illinois residents are in favor of the Clean Energy Jobs Act (CEJA). CEJA (Senate Bill 2132/House Bill 3624) would help keep a lid on Illinois consumers' utility bills by boosting energy efficiency programs and taking advantage of the rapid growth of wind and solar power.
A report released this week by Tulchin Research surveyed 500 Illinois residents who are likely voters in the upcoming November 2020 election. Seven out of 10 supported the bill, including a third who said they "strongly" support it.
CUB supports CEJA because it would help save consumers money by expanding energy efficiency and reforming the electricity market, to put Illinois on a path to 100 percent clean energy while protecting utility bills. One key improvement proposed by CEJA would put the Illinois Power Agency (IPA) in charge of managing a special electricity market called the capacity market. (Read more on capacity in CUB's blog.)
You can sign CUB's petition urging your legislators to support CEJA now.
P.S. CUB participated in this year's Clean Energy Lobby Day from Springfield, where we joined several other organizations and concerned consumers in support of CEJA. You can watch our Facebook Live from the Capitol here.