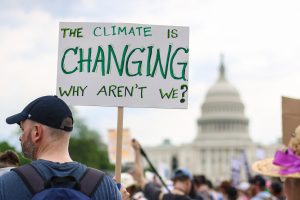 With increasingly cold winters and hotter summers, Illinois consumers face the prospect of higher and higher gas and electric bills. It's likely to get worse, according to the latest climate report by the United Nations, but we still have time to act. 
The United Nations Intergovernmental Panel on Climate Change (IPCC) has released its latest 2022 Climate Report showing we will face increasing climate hazards as soon as 2050, but the worst of it can be prevented or lessened if we take meaningful action now. 
The report details how the planet is facing the increasingly severe impacts from climate change, continuing the trend we've seen over the past few decades. Where the 2021 report was dubbed a "code red for humanity," this year's report is "an atlas of human suffering and a damning indictment of failed climate leadership," said UN Secretary General António Guterres. Scientists are dubbing this report the "your house is on fire" report to signal just how necessary it is to take action to prevent these outcomes.
For the United States, climate change over the next few decades includes rising air, water, ocean, and ground temperature by as much as 1.5 degrees celsius. These increasing temperatures will also require more use of our limited water supplies, test the capacity of our infrastructure systems, and impact our country's food and nutrition security. The consequences aren't only hotter temperatures and natural disasters, but also huge adjustments to our everyday lives. Here's three key facts you need to know: 
1.5 degrees celsius is the key temperature threshold before massive permanent damage to our planet.

This threshold was set in the 2015

 as the point of permanent, irreversible damage to the environment. 
We are at 1.1 degrees celsius currently, with projections to hit the critical threshold as soon as the 2030s

. The risks with climate change are coming faster than expected and every fraction of a degree counts. "The longer you wait… the more you will pay later,"

reports

co-chair Hans-Otto Poertner. 
There's a brief window of opportunity to secure a liveable and sustainable future for all.

We must take meaningful action against fossil fuels now instead of delaying cuts in heat-trapping carbon emissions or simply waiting to adapt. Scientists say we can save more lives by reducing heat-trapping gas emissions from the burning of coal, oil and natural gas.
Increasing global temperatures will continue to disrupt the supply-chain and slow down international trade–meaning the delays we've seen over the last few years in shipping and grocery store shortages could continue to get worse. These issues hit the most vulnerable people and environments the hardest. 
"It's really bad and there's a good chance that it will get worse,"  said Robert Habeck, the German vice chancellor and minister for climate and economy, reacting to the report. "But if we do everything we can, that will make a difference. Our actions will make the difference… That's what hope is."
So don't be paralyzed by the problem: Act now. If you can't do something big, do something. Everyday actions can make a huge impact in how much we are affected by climate change over the next few decades. Here are a few ways you can take action and get involved:
Practice energy efficiency

– Visit

CUB's Clean Energy page to learn about efficiency programs and actions that are both good for the planet and reduce your costs.
Join the CUB Action Network–

The action network allows you to send messages to policymakers on key energy issues. Thousands of Illinois consumers took action over the last few years and helped pass the

Climate & Equitable Jobs Act (CEJA)

, historic legislation that represents Illinois' biggest step yet in fighting climate change. Currently, one of our biggest battles is trying to

eliminate a surcharge

that's helping to increase bills for consumers who rely on fossil fuel heat (natural gas).

Advocate for less fossil fuel dependence

– Moving away from fossil fuels will take thoughtful planning over decades to come. Learn about

new CUB research

, part of a Better Heat Campaign, attempts to start that conversation and show how moving away from natural gas could save consumers money.