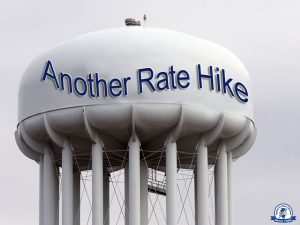 What happened? 
In February, Illinois American Water filed for a $87.4 million increase in rates before the Illinois Commerce Commission (ICC).
How much will this cost customers?
The rate hike includes a $65.7 million, or 27 percent, increase in water service rates and a $21.7 million, or 59 percent, increase in wastewater service rates. If the ICC approves this rate hike, the typical residential water customer would see a bill increase of $6 to $14 per month and the typical wastewater customer $7 to $17 per month. 
When would the rate hike take effect? 
The ICC will rule on the increase around January of 2023, after an 11-month rate case.  Any new rates would not become effective until early 2023.
Why does the company say it needs a rate hike? 
According to Illinois American, the rate hike would cover $1.1 billion in completed and future upgrades. That includes replacing 141 miles of aging water and wastewater pipelines, upgrading water and wastewater treatment plants and other equipment work. Illinois American Water last raised rates in 2017. 
This rate hike request comes after Illinois American Water's parent company American Water earned $1.26 billion in profits in 2021, over their $709 million in profits in 2020. 
What does CUB say about the increase? 
This is terrible news for customers of a water company that already has a reputation for charging high rates. CUB is concerned about the size of this increase and that the request comes as Illinois consumers try to recover from the pandemic and already wrestle with increases in high natural gas and electric rates. 
CUB is discussing with other consumer advocates how best to respond to Illinois American's rate-hike request.  
Are there other concerns about Illinois American Water? 
This isn't the first time the company has raised the ire of customers. A Chicago Tribune analysis in 2017 found that Illinois American and fellow private water company Aqua Illinois charged customers 20 percent to 70 percent more than municipal system customers. For years CUB has been working to pass legislation that would give customers more of a voice before private water companies like  Illinois American are allowed to buy up municipal systems. Under a state law the company fought for, it and Aqua are allowed to charge customers higher rates to cover the cost of its municipal  acquisitions. Those costs now total $253 million, and counting. Learn more about water privatization in Illinois: 
What can I do?
You can contact the ICC with concerns about the rate hike:
Online: 

There will be an ICC link available to comment on this rate case. CUB will make sure to share it when it's available. 
By Phone

You can reach the ICC's Consumer Services Division between 8:30 AM and 5:00 p.m., Monday through Friday by calling 1-800-524-0795, 1-217-782-2024 outside the State of Illinois, or TTY at 1-800-858-9277. 
By Mail

You can send the ICC your comments or complaint at:
Illinois Commerce Commission
527 East Capitol Ave.
Springfield, IL. 62701