In our first-ever "virtual utility bill clinic," CUB members from 64 different cities across Illinois submitted their utility bills to get CUB's unique utility-bill checkup service from the comfort of their own homes.
CUB holds 400-500 events a year, but the virtual clinic was an attempt to reach people who can't get to one of them. Veteran consumer advocate Aimee Gendusa-English reviewed all 89 consumer bills from readers of the CUB Voice, our quarterly newsletter, and was able to save most people money.
"Many people learned how to make deep cuts in their utility bills, and I'm happy about that," said Aimee, CUB's Lead Service Liaison. "But I'm also happy that a lot of CUB members had been following our advice for years and had nearly perfect bills. I want to share these findings because I think it can help people spot opportunities to save on their own bills."
Here's what Aimee found:
1. Alternative suppliers are usually a huge drain on your wallet!
The average monthly savings for our virtual UBC consumers was $31.76—and for many of them, those savings would come from dumping an alternative energy supplier. This consumer paid Santanna Energy not only a bad rate (9.69 cents per kilowatt-hour [kWh] was about 40 percent above the utility's rate at the time), but also a $9.99 monthly charge for the privilege! Read our guides to avoiding electric rip-offs, for ComEd and Ameren customers.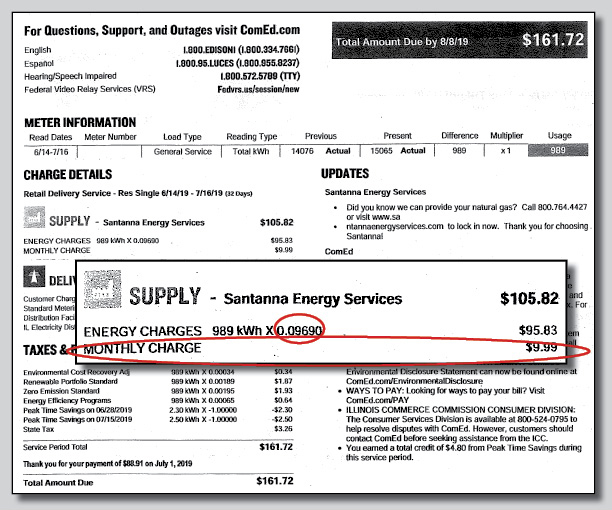 2. Energy efficiency DOES pay!
Aimee discovered that Direct Energy charged a 79-year-old couple from Georgetown an astonishing 13.84 cents per kWh, triple Ameren's price. They wrote of their many efforts to conserve—they keep their usage low, installed Energy Star-certified appliances, and use energy efficient light bulbs, yet saw no cost reductions! But now that they know they can ditch Direct Energy and go back to Ameren's regulated price, they will actually see the lower bills that SHOULD come from their lowered energy consumption! Visit our Clean Energy page to see all the utility programs and discounts to help you save energy and money.
3. Demand response programs work!
Many people may not know about "demand response"—but it could be good news for your electric bills. The term refers to optional programs offered by the regulated utilities that incentivize consumers to reduce their electricity usage when power prices are high (Hourly Pricing and Peak Time Savings through ComEd, and Power Smart Pricing and Peak Time Rewards through Ameren). Not only does this help the environment and electric reliability, but it also can help you save money. Hourly Pricing, for example, is saving participants roughly 15 percent on the supply side of their bills—and one man showed us the $47 Peak Time Savings credit he received on his ComEd bill. Read up on these programs and consider signing up for one.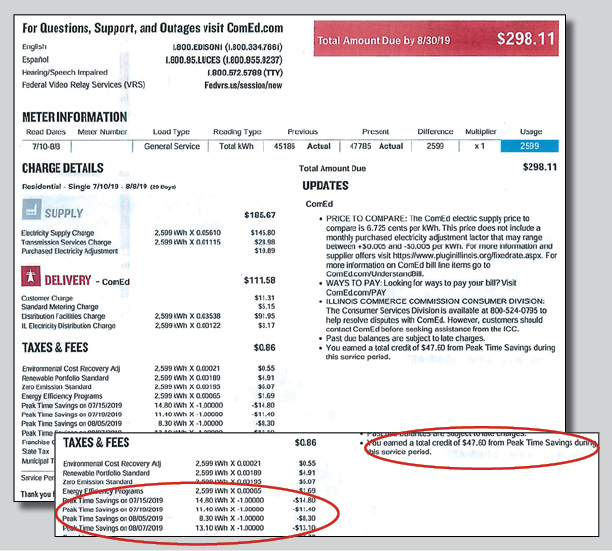 4. Yes, you can get low rates for phone service!
It can be frustrating and confusing trying to find a good price for a phone plan. We saw too many consumers paying a bloated AT&T package called "All Distance." It starts at about $50 a month, but often is closer to $75 with various add-ons. Such "all you can eat" packages give consumers far too many calls and more bells and whistles then they actually need. Thankfully, many consumers who submitted their phone bills were already on the AT&T Consumer Choice legacy plans. If you're armed with information, this $29 total is achievable for many landline customers!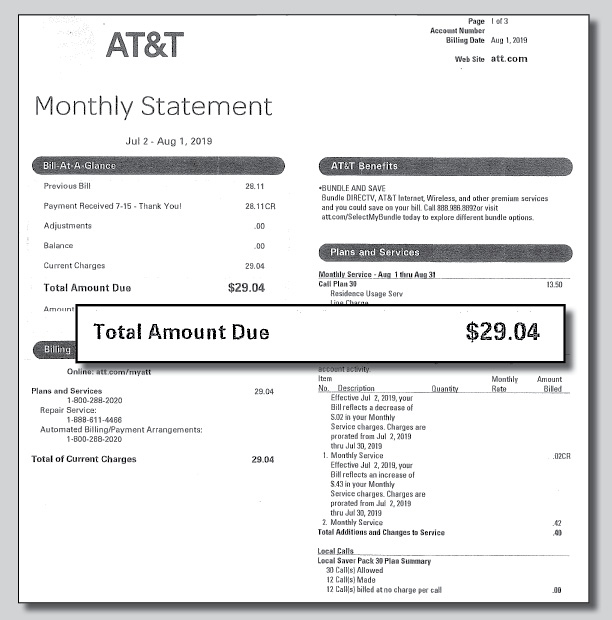 5. People have the power to fight high bills—from practicing efficiency to signing petitions!
"Please help, I'm 94," one consumer wrote on her Peoples Gas bill. She had very high gas usage—even in the summer. So we recommended she take advantage of a free Home Energy Assessment.
But she's also a Peoples Gas customer, which means another reason she's facing bills is the company's mismanaged pipe-replacement program, which we fear will make a growing heating-affordability crisis even worse in Chicago.
CUB is fighting before the Illinois Commerce Commission (ICC) and the General Assembly to reform this program, and we're constantly challenging utility rate hikes. We'll need your help signing petitions and sending messages over the next year. Don't give up hope. In recent years, you helped CUB reduce two Nicor rate hikes by a total of $177 million, cut Ameren Illinois gas rates by about $10 million and secured $24 million in refund packages for Peoples Gas customers. Get ready to take action!
If you have a question about your bills, please call our consumer hotline at 1-800-669-5556 or submit a complaint online.
Also, in celebration of national Energy Awareness Month, take our Home Heating Quiz for the chance to win a free energy-efficiency kit (2 LED bulbs, a smart power strip, and a Kill A Watt energy-usage monitor in an insulated CUB tote bag).
Our mission is to give you good information that helps you save money. If you like this article, please consider a small donation to support the fight for lower utility bills.