If you've ever called CUB, there's a good chance you've spoken to Jantay Gray, one of the outstanding advocates who staff our Consumer Hotline (1-800-669-5556).
Earlier this year, Jantay secured a $411 refund for Nicoletta, a Chicago consumer who submitted a complaint about a ComEd billing issue.
"Last year, I was overbilled for months on my electric bill. Comed confirmed that it was a mixed meter and I would be refunded for the overcharge," Nicoletta wrote to CUB. "I've followed up at least a half-a-dozen times over the course of months with no resolution."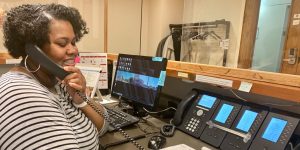 A mixed meter issue means she was being billed for the wrong meter.
"How is it ok to hold onto hundreds of dollars for a year?" she asked. "Please let me know if you can help set things right."
Unsatisfied by the response from the utility, Nicoletta reached out to CUB. Jantay took the case and promptly filed a consumer inquiry with the ComEd. Within a few days, the utility responded: Nicoletta will receive a $411.86 refund check.
"Whether it is securing refunds or establishing customer protections, it's a privilege to take part in fighting the good fight," Jantay said. "I'm glad my work with CUB allows me to help out consumers like Nicoletta."
"I'm very grateful for the services they provide," added Nicoletta. "I think it's really important, and I would recommend CUB services to everyone." (See her video!)