The last thing anybody needs in the middle of this crisis is to pay high utility bills. That's why we're continuing to analyze bills for Illinois consumers.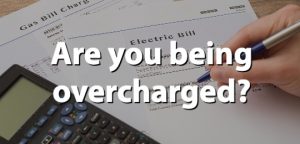 "I'm afraid they may be overcharging me," said one consumer who emailed her gas and electric bills to us.
She was right: An alternative energy supplier overcharged her by about $18 in one recent month—that's potentially hundreds of dollars in losses over the year.
A Cub specialist was able to help her, but how many other people are overpaying? The forces that want your utility bills to go up aren't stopping for Coronavirus, and that's why CUB can't either. Please consider taking two actions today:
1) Check your bills and make sure you're not overpaying with an alternative supplier. (If you're unsure, have CUB do a free analysis of your bills to see if there are potential ways to save.)
2) Answer the call of a generous CUB supporter who has agreed to match your donations up to a total of $1,000.
We will immediately use your donation to fund our education campaign against rip-offs and to fight these crucial battles:
Washington is trying to bail out dirty power plants, and that threatens most Illinoisans with a record-high electric increase of up to $864 million a year.
Ameren wants a $102 million gas rate hike, and this year we're prepared to challenge possible hikes from Peoples Gas, ComEd and Ameren (electric).
We're fighting to eliminate a surcharge that allows Nicor Gas, Peoples Gas and Ameren to treat us customers like their own personal ATM.
We have to take a stand, especially now. CUB is the only Illinois nonprofit 100% dedicated to lowering your utility bills. Thanks to your support, we get results—over $20 billion in consumer savings over CUB's history.
Whether you decide to contribute or not, please know that CUB is in your corner. If you have any questions, concerns, or complaints about your utility service in the weeks ahead, please call CUB, at 1-800-669-5556.