In an emergency like this, affordable utility service is vital, and that's an important point to make with our leaders.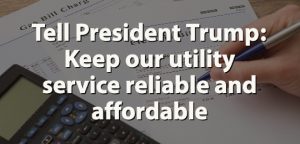 Please tell President Trump about CUB's Utility Customers' Bill of Rights, and urge him to support state and federal policies that will keep our electric, gas and telecom service reliable and affordable during this crisis.
This Bill of Rights should include:  
If you want more information on CUB's response to COVID-19, visit CUB's Help Center. And if you're eager to read more about protecting yourself during these unprecedented times, check out some of our most recent WatchBlog articles.