In an emergency like this, affordable utility service is vital, and that's an important point to make with our leaders.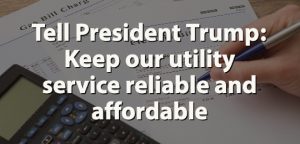 Please tell President Trump about CUB's Utility Customers' Bill of Rights, and urge him to support state and federal policies that will keep our electric, gas and telecom service reliable and affordable during this crisis.
This Bill of Rights should include:  
Extending a mandatory moratorium on shut-offs and late charges by all electric, gas, telecom, water and Internet/cable providers for the remainder of 2020. (And lenient reconnection plans for all customers who seek to be reconnected and were disconnected solely because of the inability to keep up with payments.) 

Extending the current suspension of telecom data caps and freezing rates for telecom and cable plans for the remainder of 2020.  

Increasing funding for energy assistance and/or establishing special hardship programs as well as lowering the threshold for receiving such benefits, covered by utility shareholders and stimulus funds. 

Expanding innovative, consumer-friendly affordability programs, like the Percentage of Income Payment Plan (where qualifying households get help paying energy bills as long as they pay a certain percentage of their gross income).

Expanding money-saving energy efficiency programs. (For example, programs that let you pay for efficiency upgrades through your utility bills.) 
If you want more information on CUB's response to COVID-19, visit CUB's Help Center. And if you're eager to read more about protecting yourself during these unprecedented times, check out some of our most recent WatchBlog articles.
CUB's guide: Utility services during the COVID-19 emergency.
New CUB service helps consumer cut costs.
5 phone numbers utility customers should know.
Overpaying by $4.4 billion? Why we need electricity reforms.
Amid coronavirus, another worry looming for Illinois.
Struggling to pay your bills? These resources can help.